Live
The Seasonal Bedroom: How to Transition Your Space Throughout the Year
Interior stylist Michelle Hart breaks down how small changes in decor, texture and colour palette can create ambiance in your space throughout the year.
Michelle Hart
Interior Stylist
Do you transition your bedroom with the seasons?
Styling your space in line with each seasonal transition is key to creating a beautiful and comfortable sanctuary, one you'll be looking forward to retreating to each night.
Just as we change the style and colour of the clothes we wear as we move through each season, so too should our bedrooms where we spend on average one third of our lives.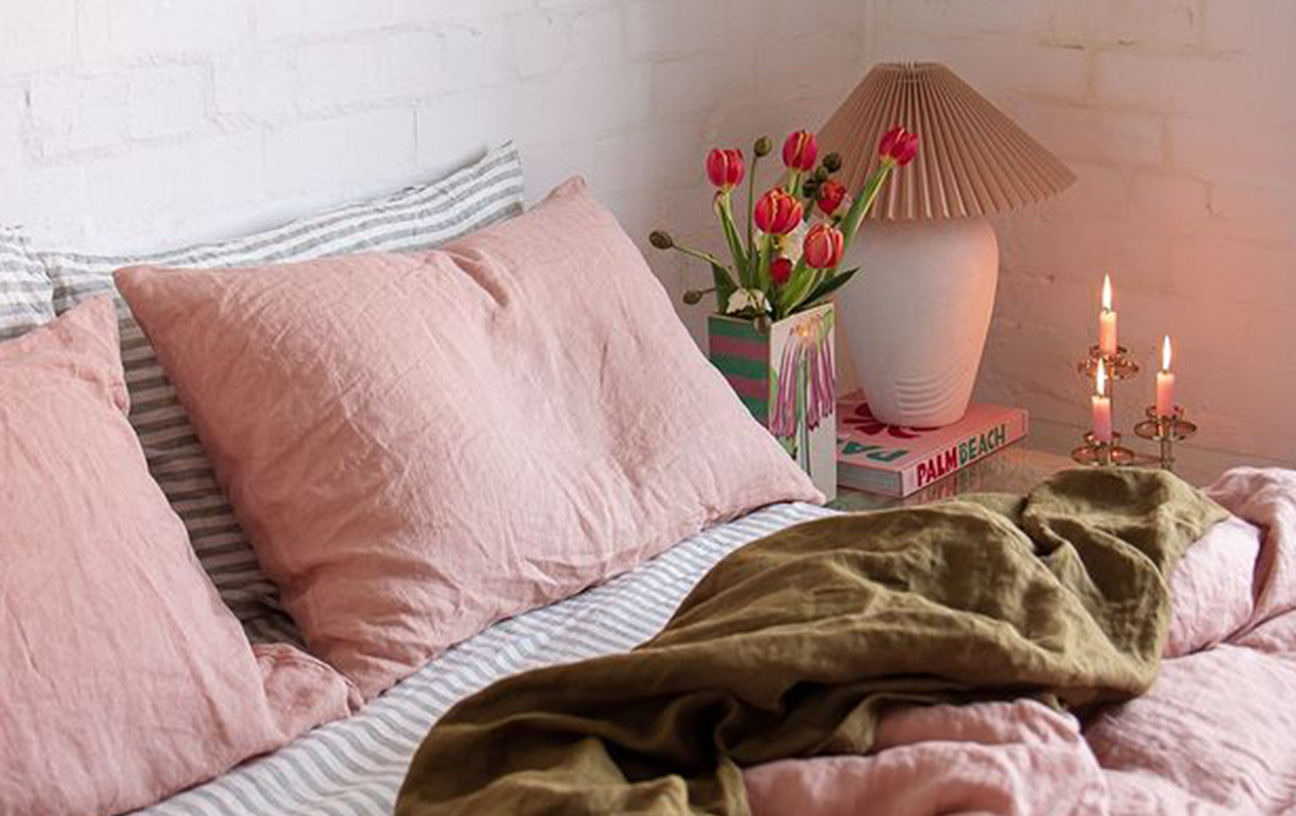 The aim is to create an overall calming, relaxed space throughout all seasons of the year which can assist us with good quality sleep.
This starts with selecting natural breathable materials which can be layered together, curating soft furnishings like cushions and throws, intuitively working with colour and also adding scents and floral arrangements that reflect the outside weather and mood we want to invoke into our bedrooms. 
Let's break it down with some ideas for each of the seasons that you can implement yourself at home. 
Winter 
Right now when the days are short, the air is chilly and the skies are gloomy, all I want to do is curl up under a thick blanket with a good book and a hot cup of tea.  
Winter is all about layering and textures and staying warm so this is the time to bring out those chunky knit throws, woollen blankets and extra plump pillows to adorn your bed with. 
Adding luxurious textures like an opulent velvet coverlet is also a way to create that cosy look and add warmth to your bedroom. 
In winter we also tend to gravitate towards a moodier colour palette that emanates cocooning or going within to hibernate.
Think charcoals, navy, and rich mulberry; also mood lighting like lamps and candles can add something nostalgic and comforting to a space. 
I love to diffuse essential oils and also burn incense during winter months to help bring a soothing and cosseting atmosphere to my space.  
Try essential oils like peppermint, orange or cedarwood. 
Spring 
The transition to daylight savings and longer days with the promise of warmer weather ahead often gets us in the mood to start shedding all those winter layers.
This is the perfect time for a "spring clean" of your bedroom, removing all of those heavier items and replacing them with lighter and brighter pieces to lift the energy of your space.
My choice for bedding and sheets is always linen. It's breathable, natural and has a relaxed, lived in look.
Swapping darker colours out for softer, more muted tones will change the look and feel of your room instantly, while including some good quality cushions and layers like sheepskins or cotton throws will help to elevate your bed linen. 
Adding a cheery bouquet of your favourite spring blooms to your bedside table will lift the mood of your space.
Another simple way to brighten up your bedroom is to swap out the artwork you may have to create a new vibrant look, such as this Carla Coulson print. Choose a piece that makes you feel joyous and alive with colours that resonate with your individual style. 
Lastly, as the days warm up, make sure to open up your curtains and windows to let in natural light and air.
Diffuse essential oils with citrus and floral scents that will invigorate and add freshness to your room, some of my favourites include lemon, lime and geranium. 
Summer 
As the nights become warmer it makes sense to declutter your bedroom to keep your sleeping space minimal.
Swapping out your heavy quilt for a summer coverlet and using cooler fabrics for your bed linen in cotton, bamboo and linen makes sleeping more comfortable. 
I like using neutrals, whites or even a thin stripe to help bring in those summer vibes and I tend to use minimal accessories for dressing the bed during summer too. 
Adding some lush greenery to your room like a potted palm or Monstera in a beautiful vessel will help to create a living oasis, while using lighter textures like rattan and jute makes your bedroom feel cooler and appear more open or airier. 
Summer scented candles that remind you of sipping pina coladas and feeling warm sea breezes on holiday are perfect for your bedroom. My favourite essential oils to diffuse in summer include lemongrass, lavender and peppermint. 
Autumn 
This is my favourite season when the days are still warm and the nights cool.
This is when we start to bring out more layers again and introduce rich colours such as caramel, rust and tobacco that imitate the changing colours outside in nature.
These earthy tones bring a sense of warmth and comfort and also help to make us feel grounded as we transition again towards the cooler winter months. 
Bring more texture and pattern in here with your décor such as boucle and jute cushions, woollen blankets and throws.
I love to add a vase filled with autumn foliage on my dresser as an alternative to florals, and the essential oil scents for this season I would use are more grounding to include ylang ylang, palo santo, black pepper. 
Michelle Hart
Interior Stylist
In this article