Explore
An Egypt Travel Journal by Nadia Fairfax-Wayne
Our style expert opens her album of holiday photos and reveals her favourite memories from Cairo, Luxor and Aswan.
Nadia Fairfax-Wayne
Creative Director & Stylist
Swimming the Nile, hot air ballooning, and discovering off the beaten track eateries...
Youtimer Nadia Fairfax-Wayne opens her album of holiday photos from her recent travels to Egypt, and shares her favourite experiences - from a luxury cruise and historic hotels, to ancient temples and fantastic food tours where you can dine like a local.
Cairo
Stay - Mena House, Giza. 
Eat - Felfela, Cairo. Another favourite of mine was the Bellies En Route Food Tour. Really delicious local spots and a great way to see the city not as a "tourist" (Not for the faint hearted - teeny little holes in the wall!)
Tip - Get a guide day to day. It's not easy to move around the city and there's a lot of information to absorb - I wouldn't have learned half as much I did without one. We used High End Journeys.
Do
Pyramids of Giza, of course.
Along with the rest of the tourist sites (I normally advise against standard tourist spots when travelling - but it's really important to hit the historical sites when visiting Egypt) 
Saqqara Archaeology site, Sphinx (pictured), The Coptic Churches and Mosques. 
See
The Valley of the Kings and Temple of Hatshepsut. Luxor and Karnak Temples are also a must.
I personally enjoyed my time at the temples over the tombs - but both are interesting and give rather different perspectives.
Must do
Hot Air balloon ride over the valley of the kings. MIND BLOWN.
As with Cairo, guides are really essential in Luxor  - So much to learn and take in! 
Hot tip
Set sail down The Nile River between these two destinations on traditional dahabiya boat the Nour El Nil.
This whole experience was the highlight of my entire Egyptian journey! 
Aswan
Stay - Sofitel Legend Old Cataract. This is where Agatha Christie wrote Death on the Nile! (pictured below) 
Eat - 1902, in the Old Cataract. French Cuisine under a grand Arabian dome - I just think of Winston Churchill dining here all those years ago. The Kababgy is delicious and more low key - all the local flavours I love.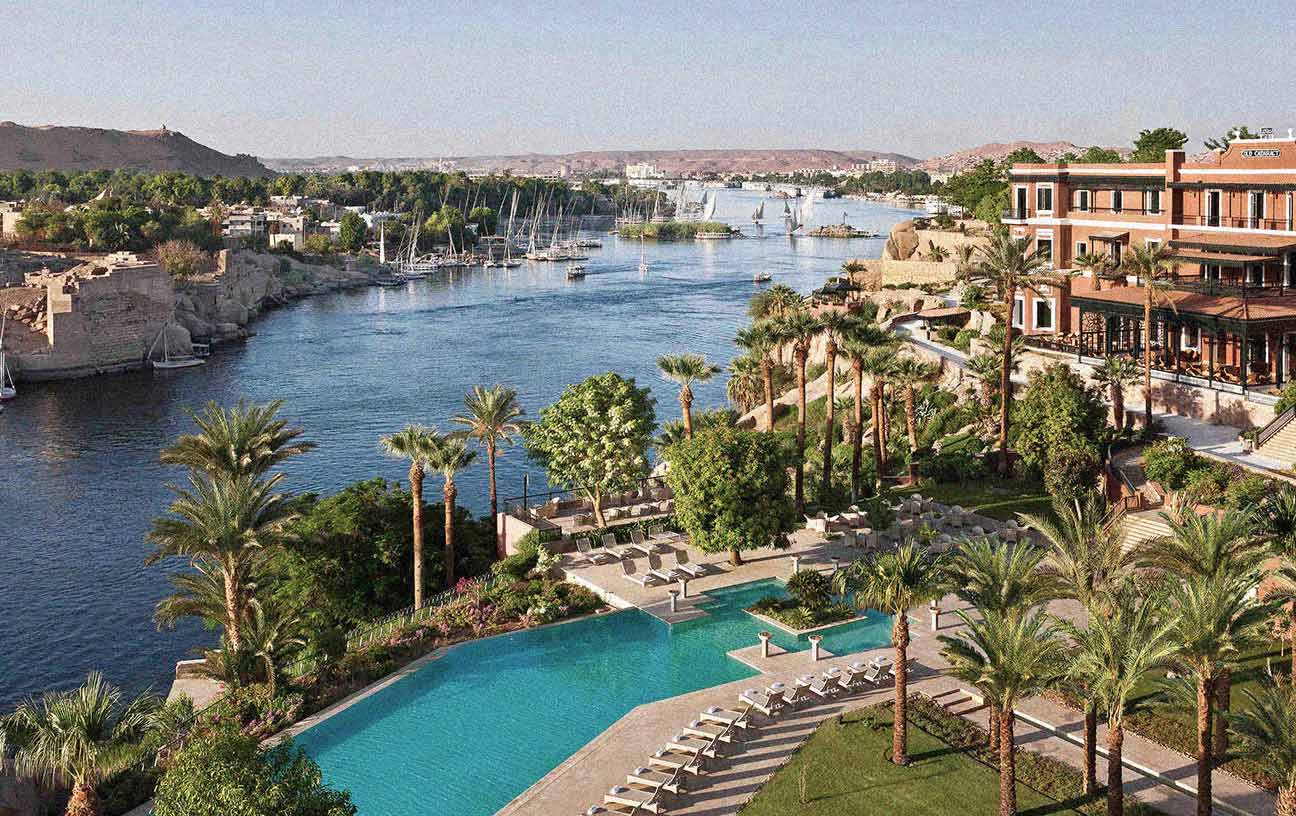 Do - Pop on a Felucca (small traditional boat) over to the Nubian Village which is filled with colour and extraordinarily friendly people. 
Tip - We really took this time to have a break, after so much sightseeing, it's really nice to enjoy a little sun and pool time.
YOUTIME MAY EARN A COMMISSION FROM THE EXTERNAL LINKS ON THIS ARTICLE.
Nadia Fairfax-Wayne
Creative Director & Stylist