Explore
True Love, Actually
After a decade of marriage, there may be less flowers and fancy dinner dates, but Nina Karnikowski has come to learn that there is poetry to be found in the dailiness of life.
I was married 11 years ago, on a chilly winter's eve in June, at a glass-walled restaurant on Sydney Harbour, in an embroidered dress my mother bought me.
I was 27, the first of my close friends to be married, but my now-husband Pete and I were determined that saying 'I do' would be only the beginning of a grand adventure.
As a sort of statement of intent, we left for a six-week honeymoon to East Africa two days after the wedding.
We danced all night on an island in Mozambique, we safaried in Zimbabwe where we were almost trampled by a herd of wild buffalo, we took a helicopter ride over Victoria Falls as the morning sun threw rainbows across the sky.
Afterwards, we walked to the lip of the falls, bowing our torsos out into the abyss, breathless with exhilaration as we peered into the canyon below.
Two years later, just when we'd started attending house auctions and fielding an increasing number of queries about when we were going to have kids, we opened an escape hatch by moving to India for a year.
When we returned to Australia, Pete decided to quit his established graphic design career to become a winemaker, and we moved to the country.
Meanwhile, I was just starting out as a travel writer, travelling for a third of each year to destinations as far-flung as Antarctica and Namibia, Mongolia and Peru.
We were chasing risk and romance, running towards places and existences that felt exciting and fresh and full of hope and wonder.
But we were also running away.
Away from other people's and society's expectations. Away from the 'quick catch ups' and get togethers. Away from endless conversations about real estate and babies and the minutiae of daily life.
Rather than being hard on our marriage, Pete and I often joked that being apart for chunks of each year was the secret of our marriage's success.
But when the pandemic halted our regular escapes and the more humdrum realities of life were all we had, we realised it wasn't really a joke at all.
Spending a few weeks apart while I hiked a mountain in sub-zero temperatures in Japan, or learnt about the plight of the polar bears in the Arctic, wasn't the hard thing.
Arguing over whether Pete or I had done more vacuuming that month, or who had walked the dog more that week, was.
The debates about whose job it was to clean the bathroom and about whether that task was of equal or greater value to mowing the lawn, made me feel as though the walls of our house were slowly closing in on me.
And they made me miss the world and our old life with a sometimes terrifying intensity.
But then it is a Sunday morning. Pete and I are playing bagh-chal, a board game I bought in Nepal where one player controls four tigers that 'hunt' the other player's 20 goats, while our big white dog Milka sleeps by our side.
We sip our coffee, the washing machine whirrs in the background, we move the little brass tigers and goats across the board. In this moment I realise I've come to love the poetry of our dailiness.
And that maybe this, this learning to be still and at home with each other, is just another kind of great adventure.
Our love is truer now than it has ever been.
There are less wild journeys, less flowers and fancy dinners, but more rambling conversations, more mornings wandering empty beaches and nights spent wrapped in each other's arms by the fire. Less chasing, and more simply allowing things to unfold, whatever that looks like at the time.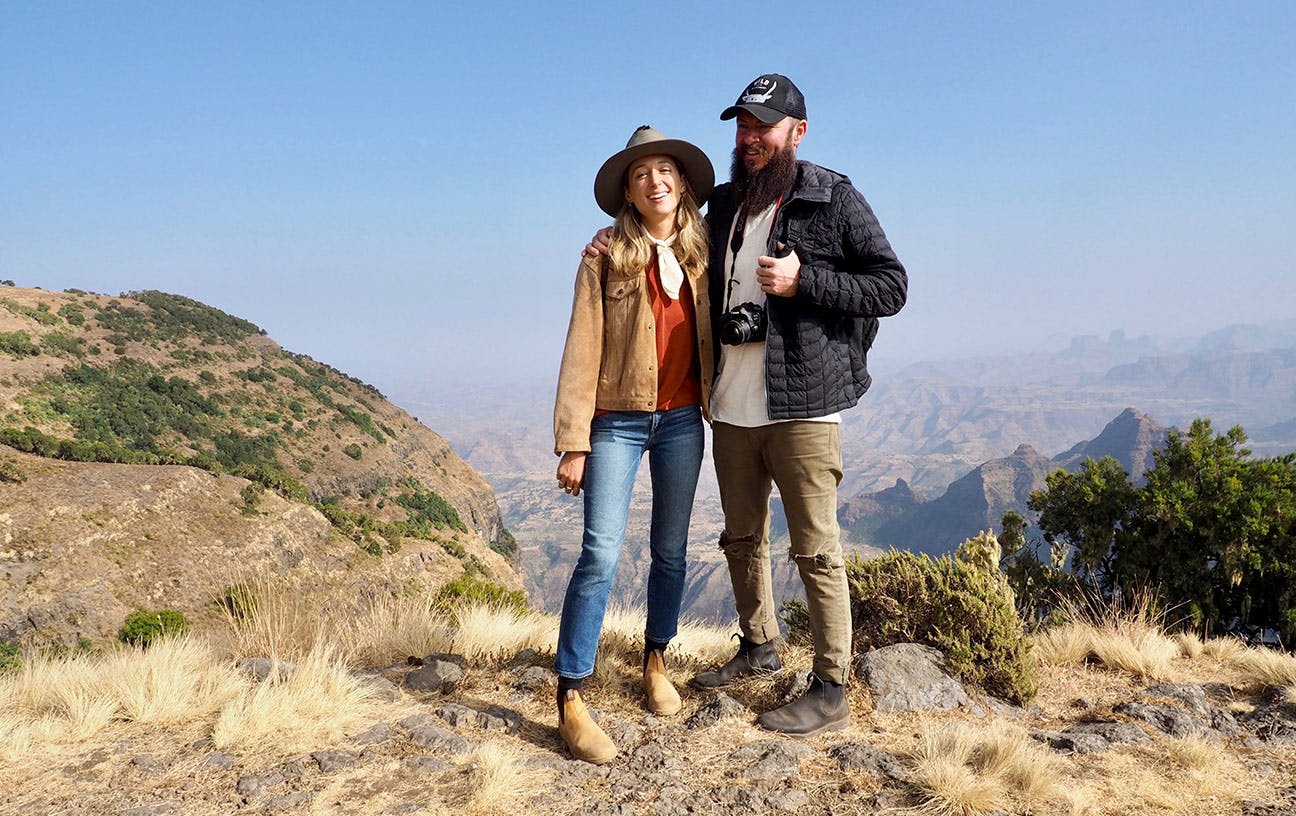 And maybe this is the real secret to the endurance of our marriage, one decade in.
This acceptance of the fact that we're forever going to be abandoning past versions of ourselves and our marriage as we uncurl and blossom. And that attempting to cling to a past that no longer exists is only going to cause pain.
I don't want to waste precious time in pointless competition with the past. What a way to ruin the beauty of the present moment.
What a way to miss the entrance into the next, possibly more beautiful and true, iteration of our relationship, faintly pulsing like a heartbeat beneath it all.
Pete laughs as he takes one of my goats off the board, and I never want the game to end.