Explore
Seeking Solitude Within a Concrete Metropolis: My Favourite Restorative Solo Adventures In NYC
In a city populated by over 8-million people, moments of solitude are rare. Here are the places our writer Lauren McCurry loves to visit in NYC to unwind, recharge and spend time with her thoughts.
Moving to NYC is a delicate dance of wins and losses.
A win is that you are always close to the world's most beautiful art, the most exciting fission of diverse cultures and the most delicious yum cha.
A loss is that you often share these experiences with myriad people, all vying to occupy the same space as you. There is beauty in this, and – as an introverted woman finding her feet in a new post/zip code – there is also fear.
This fear comes from a place of not wanting to be out of one – my venture into this new city is always laced with an insatiable desire to feel connected to the spaces I occupy, to give back to the communities I benefit from and to treat all experiences and people with respect.
Another fear comes from a place of decision fatigue – I know I don't feel inherently energised by the company of others and seek out solitude as my form of rest and recovery. 
Lauren McCurry
Explore
"Although space is limited in NYC, I've collected a series of locations and rituals to occupy myself that fill my cup with everything this city can so easily take: my sanity, ardour and sense of tactile connection."
Seward Park, LES
A generous patch of green located a few blocks from my studio space – this is a sliver of the park that feels distinctly "New York" laced with a hint of otherworldliness.
If you've heard the term 'cultural melting pot' – this is just that.
Ornate concrete surfaces, seating and stairs are often occupied by LES skater gangs and tradespeople eating tacos, while independent fashion labels shoot content and school children play in the many fountains.
There is a pastel-hued playground and a bustling basketball court – all ages, all economic dispositions, and all interests are kind of facilitated by this park.
My favourite time to visit is on Saturday mornings to watch a subset of the elderly Chinese community perform Tai Chi and share gossip with their market-laden trolley.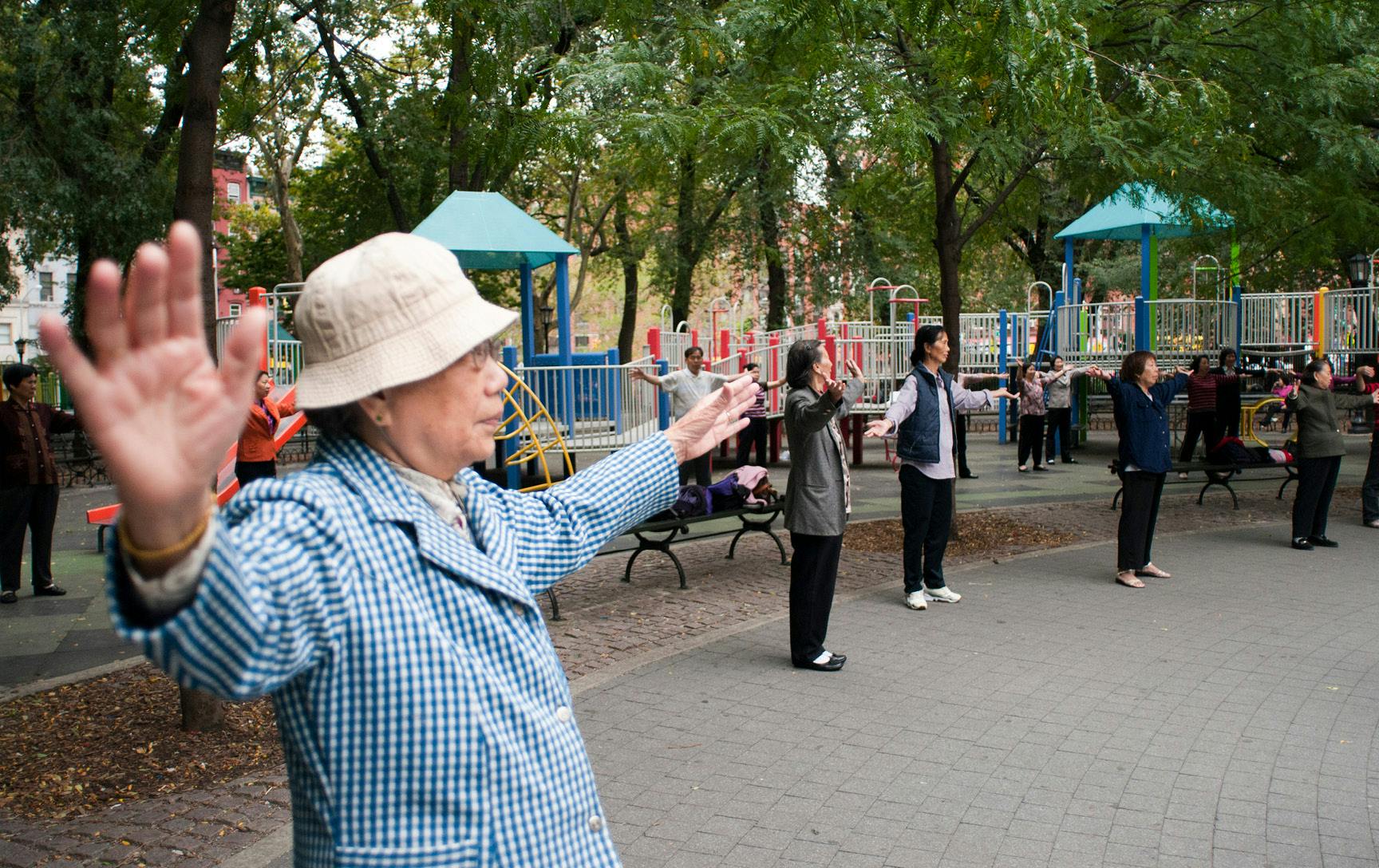 Acre, Greenpoint
This is a beautiful cafe in my local neighbourhood offering a Japanese cafe menu, pantry items, ceramics, soft textiles, and tea-making essentials.
I think many westerners like myself are drawn to the sensitivity and pace of Japanese rituals – and in NYC, this is particularly evident.
This cafe is often completely packed, but offers a roomy dining hall, outdoor courtyard and sidewalk seating that means you always have a few square meters around you to sip matcha in solitude, maybe listen to a podcast or treat yourself to an impeccably curated bento box or yuzu-spiked sweet treat in peace.
I am grateful for my solo weekday lunches at this beautiful and soothing venue.
Standard Dose, Midtown
At first glance, this wellness hub appears to be yet another millennial pink co-opt of non-western healing practices – but I have been pleasantly surprised after each and every visit.
With a focus on the potency of plants as a vessel for better sleep, skin, and all-body health – Standard Dose has become a regular destination for me to collect some of my wellness essentials while pausing to unwind.
Often on my shopping list; cleansing oil, CBD balm and – if we're being candid – my daily IBS pastilles.


A generous offering of the space is that they conduct twice-daily sound baths in their inviting community space at the back of the store – laden with soft beanbags, gentle lighting and a sunroof.
Of all the many marketing perks and brand activations in this city, this initiative feels genuine and warmly received by all fellow participants. I pop in at least once a month and always feel better for it.
Noguchi Museum, Queens
To finish, an adventure of solitude in NYC would not be complete without imbibing some art.
I tend to avoid some of the more prominent galleries unless there is a special exhibition I simply cannot miss. Instead, I opt for solo trips to the smaller, more intimate galleries outside of Manhattan – a favourite being The Isamu Noguchi Foundation and Garden Museum.
Situated on the west pocket of Queens, this gallery space exudes all the magnetic charm of its namesake artist – with a special reverence for scale, lighting and query to our interpersonal and physical connection with objects. There is also a beautiful retail selection of printed matter, sculptural (and affordable!) decor and lighting, and artist journals to take home if you fancy.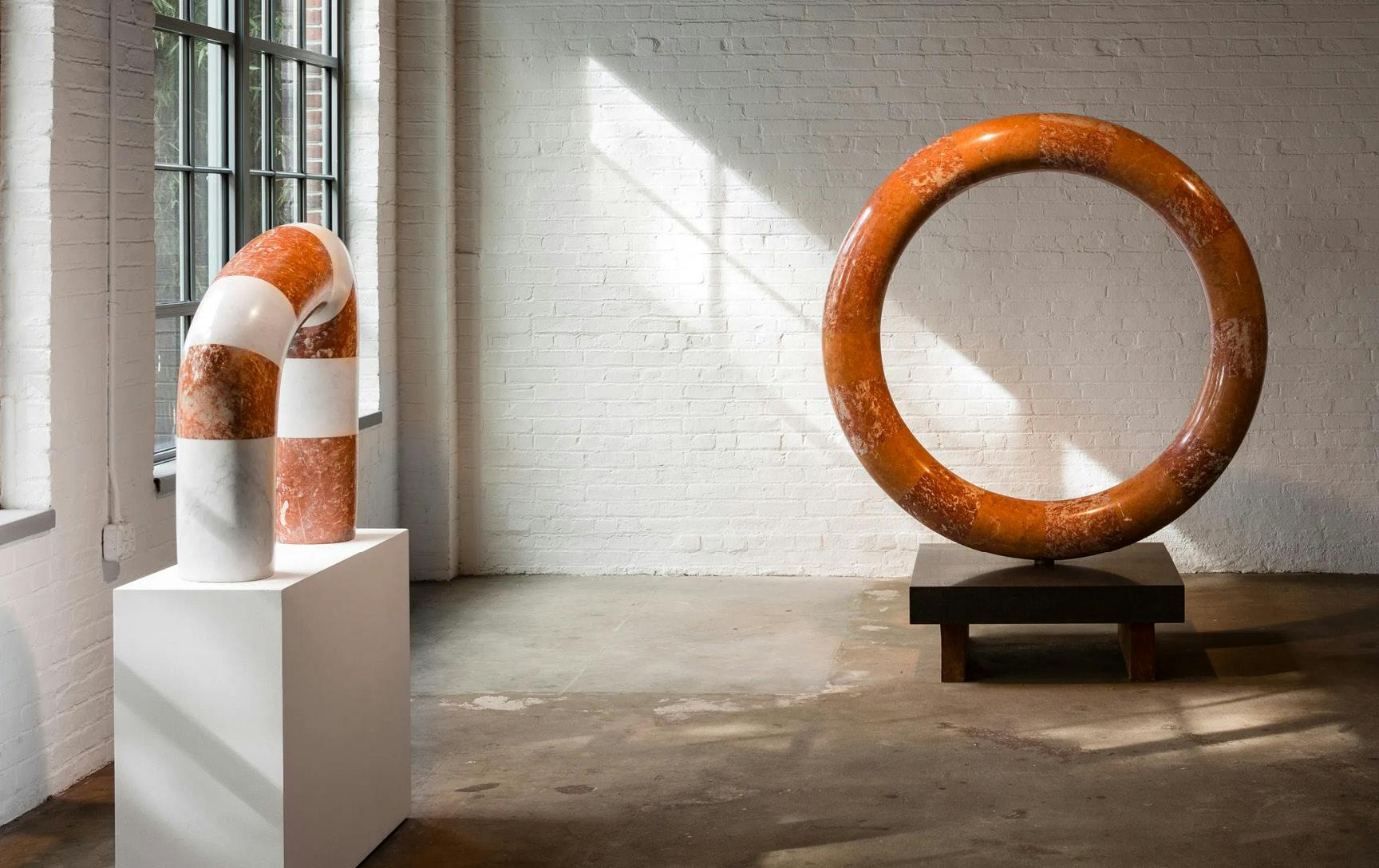 Often my friends and clients back home in Australia will ask me how I stay mentally afloat in NYC – notoriously expensive, competitive and inhabited. My answer is simple: remain still in a place you enjoy for long enough to watch it charge.
An hour on a park bench, a slow lunch at a cafe or a saunter through a gallery gives you time to watch the light change; the patrons exchange seats and the hum of the city lull you into a small moment of belonging.
And that, to me, feels like home.