Live
RECIPE | Marinated Zucchini Crostini
Cook and author Clementine Day invites you to her table with this exclusive recipe for youtime. Try out this easy entertaining fare, perfect for relaxed al fresco drinks with friends.
Clementine Day is the cook and photographer behind Some Things I Like to Cook, an evolving project that celebrates the joy of food, drawing a meaningful connection between food, people and play.
With a relaxed and unfussy approach, Clementine's recipes empower even the most inexperienced of cooks to create memorable experiences based around the simple act of eating and entertaining.
Here, Clementine shares an easy to follow recipe for Marinated Zucchini Crostini, relaxed grazing fare perfect for al fresco drinks with friends.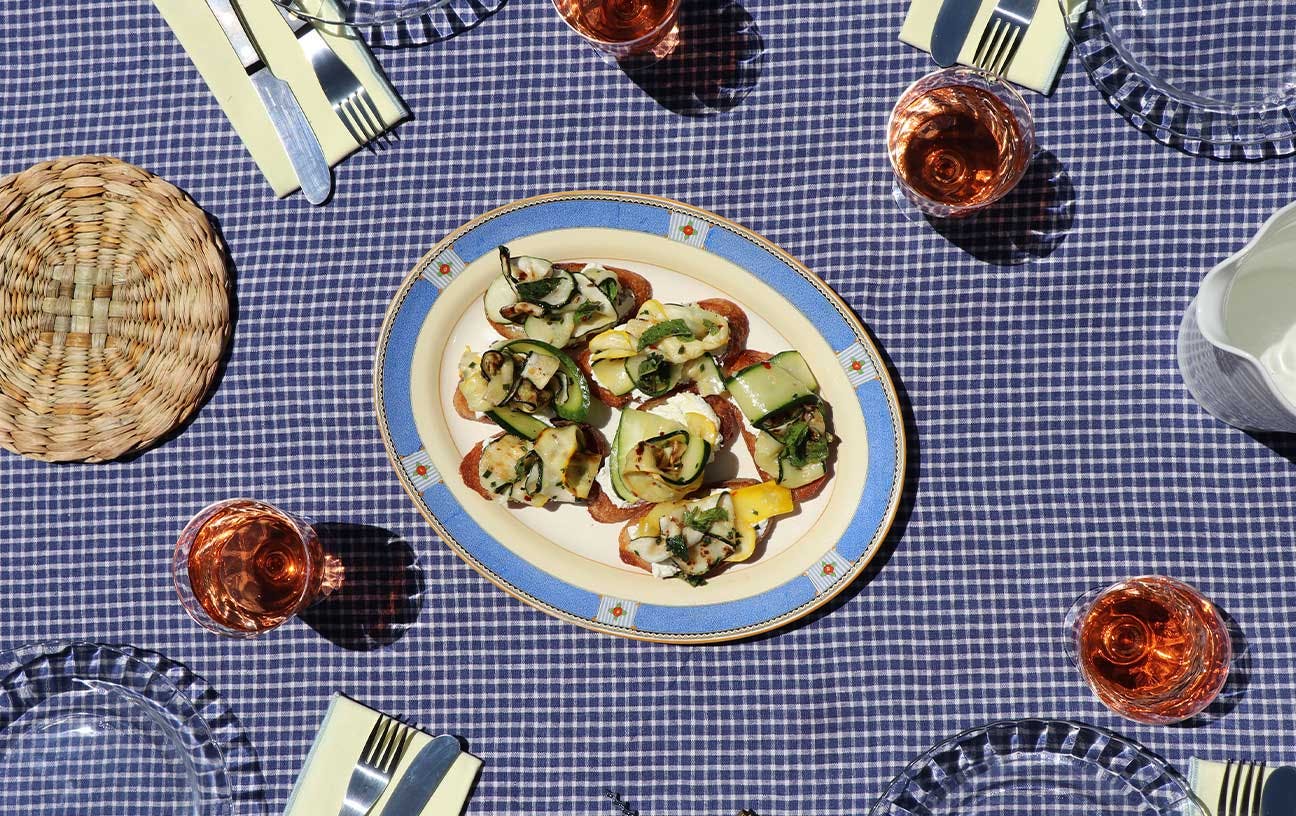 Serves 8-12
Preparation time: 45 minutes
Ingredients
3-4 zucchini
1 bunch of mint, leaves picked
A good handful of chives, sliced
1 clove garlic, finely chopped of grated
1 teaspoon dried chilli
A generous pinch of salt
2 teaspoons caraway seeds
Juice and zest of 2-3 lemons
300ml olive oil
300g cottage cheese or goats cheese
1 baguette
Method
Using a mandolin, slice your zucchini longways to create long ribbons, I like to do them at about 2-3mm thick. Leaving half of them raw, fire up the barbecue or griddle pan and sear the other half until nice charred lines appear. 
Meanwhile, in a container big enough to fit all of your zucchini, add the lemon zest and juice, olive oil, garlic, chilli flakes, caraway seeds and salt. 
Add both the raw zucchini and the cooked zucchini to the marinade, along with the mint leaves and chives and toss through well. Put the lid on the container and store in the fridge for a few hours or overnight.
Closer to when you're ready to serve, preheat oven to 180 C and line a large baking tray with baking paper. Slice up your baguette and brush both sides with a little olive oil. Lay out onto your prepared tray and put in the oven for 8-10 minutes, stopping halfway to flip them all over. They should be golden brown and crispy. Cook for a little longer if you find you need to.
When the crostini have cooled, smear each one generously with some cottage or goats cheese and top generously with the marinaded zucchini. Best enjoyed fresh once assembled. 
In this article