Explore
MotherFounder: Emma Watson
In this Mother's Day series, we speak to brand founders in the youtime community about how motherhood has inspired their leadership style. This is Emma Watson of Love Tea.
"Close connection to individuals listening to their true essence and following their hearts helps empower our children with the belief that anything is possible," says Emma Watson.
The mother of three, who founded Love Tea during university and had her first child not long after, says her children are lucky to be surrounded by strong examples of leadership.
In this series of articles ahead of Mother's Day, we speak to some of the inspiring entrepreneur brand founders in the youtime community, who are also mothers. We wanted to know: How has running a business informed their parenting style, and whether motherhood has changed how they lead.
The Founder of Love Tea shares her experience...
"There is so much beauty in being a Mum.
It's a real honour and a real privilege. I am lucky enough to have three gorgeous kids by my side.
I became a Mum when I was 25 so I was quite young, and we didn't have much.
But because of this, I got to experience the beauty of raising children very simply and seeing how they can be so happy with so little.
Seeing how when their very basic needs are met, when they feel loved and nurtured, they can thrive.
Almost 12 years later now, I am super proud of how our children have grown and who they have become, how they play together, look after one another and understand what matters most.
I think the journey of Motherhood is a real gift and I am forever grateful for my children. 
Having kids teaches you a lot about yourself - how strong you really are, how patient you can become, the joy you can find in each moment by focusing on the present moment, and by being fully present.
I've learned a great deal about perspective, about the highs and lows, and that each moment is just a moment - sooner or later, it too shall pass. 
Go easy on yourself and forgive yourself if things don't work out perfectly, there is great beauty in that which is not perfect, in letting go and allowing. 
My Mum is one of the most calm and understanding women I know. She was always there for us, with a very relaxed and loving approach to parenting. She was open to whatever we wanted to do, supporting us on our own journey and she maintained a deep sense of gratitude for her children.
I am in awe of her Mother skill set, I try to emulate her calm and grounded nature, keeping conversations flowing and remaining forever grateful for being a Mum.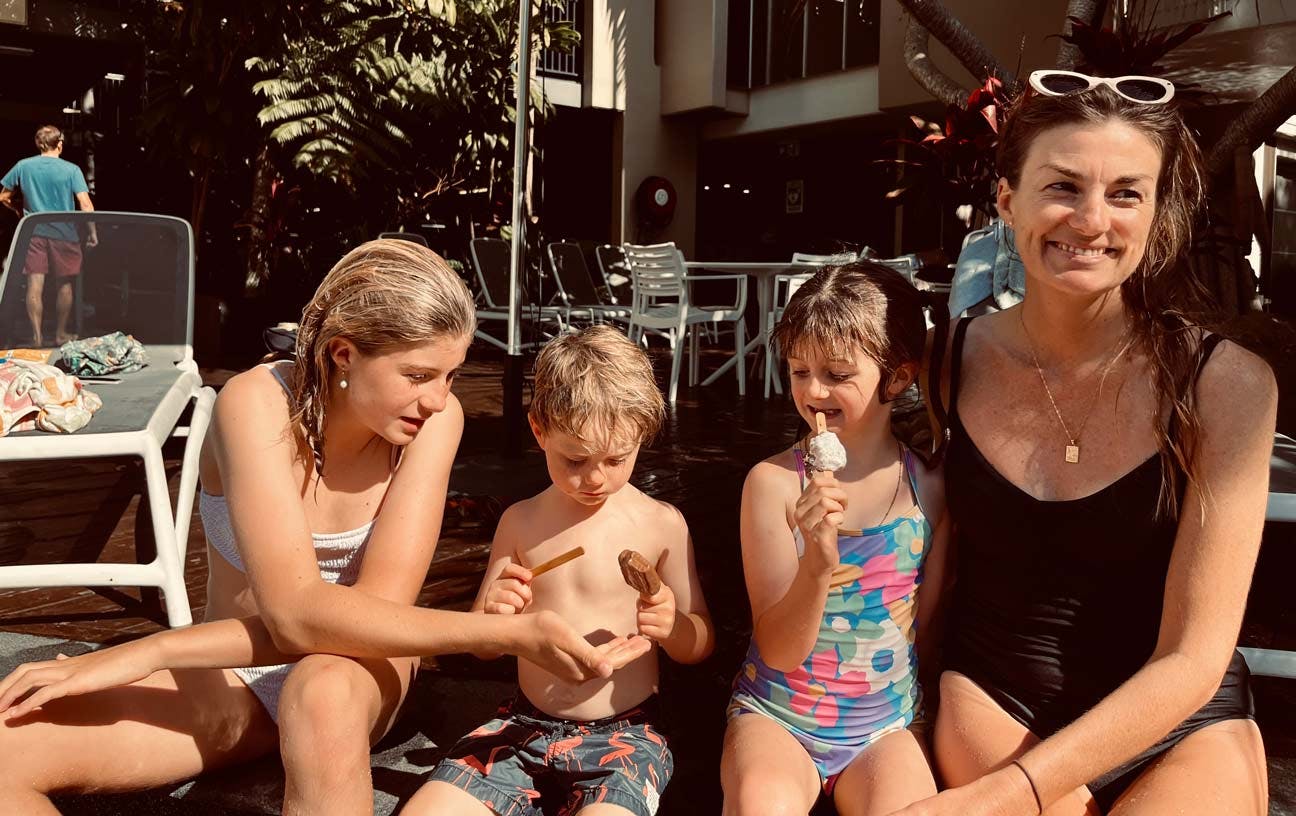 I started Love Tea in my second year of university, while studying Naturopathy. I had my first daughter 6 months after I completed the course. So my business started slightly before children, however it was a very small business at that time.
I think that when you are a Mother and business owner, you wear two hats and constantly juggle between the two. With this comes the constant reminder that time is very precious, each moment you have either with the kids or in the business is precious and time management is super important.
I think this naturally leads to great appreciation for the team around you, to be able to delegate to them and to have their support is super important.
My mum never missed any part of our childhood.
She wanted more than anything to be at home for us and to really look after us.
Raising us and being there for us was of paramount importance to my Mum, so she chose to start her career once we were older.
I remember loving that she was always around.
We would go home and she would be preparing food, or keeping the house running smoothly, so as we were able to have the time to do what we loved.
She literally gave everything for us to have a wonderful childhood.
I am sure it would have been a much more balanced life for her to work part time and stay at home part of the time, but she put herself to the side for us kids and still to this day, I am in awe of her ability to give for others.
My eldest daughter understands that I run a business but perhaps the younger two are yet to fully grasp this.
They understand that it is important to follow your heart and to think about what you truly love and what you most want to do in the world. To follow your passion and to listen to your true essence. I am always reminding them that when you do this, the rest will follow and look after itself.
I try to teach them that the people you have in your team are very important and that by surrounding yourself with people that believe in you, that lift you up and help you on your journey, you will be able to go further, and achieve your goals with their support.
When I started Love Tea, I literally had nothing but a dream and a few people that believed in me.
The kids know this story and I think that it provides them with a connection and an example of what's possible and how little you need to start on a journey towards your dream.
They have also learned that hard work and putting in a great deal of effort, working tirelessly is often required to reach your goals. 
I am constantly reminding them that anything is possible, you just need to be clear on what you want to do, work hard, take steps in that direction, and never give up.
I apply this same concept across many aspects of their lives, from their first day of school, to surfing competitions and running races. I think its super important to instil this belief in children, encouraging them to believe that if they want something in life, they can absolutely get there, you just have to believe and start moving in that direction.
I think having leaders in our children's lives is super important and they need both male and female role models to remind them that know matter who you are, or what you have, you literally can do anything you put your mind to.
My kids are lucky enough to be surrounded by quite a few great female entrepreneurs who are beautiful examples of leaders following their hearts and doing what they love. I think this close connection to real life examples of individuals listening to their true essence and following their hearts, helps empower our children with the belief that anything is possible. 
The juggle between Motherhood and business is constant. I often feel like I have done a days work before I get to the office! I think being organised and making best use of your time is essential to keeping the ship sailing forward without too much unnecessary stress.
Focusing fully on the task at hand helps me stay present with the kids or work.
My day is all about getting the kids ready for their day until school drop and kinder drop are done, then I am fully present with my work until it's time to collect them again. I really love this balance and am grateful I get to enjoy both.
My Mum has been a tremendous support to me my whole life, but since having kids and starting Love Tea, she has been instrumental in my capacity to be a Mum and grow our business. She is always there for us, nothing is ever too hard or too much and I wouldn't be where I am today without her.
My Dad is no different, he will do anything for me and our kids and I am forever grateful for his support. My sister and my brother have helped me endlessly, and constantly put their hand up to help when I need it. I am very lucky to have such a supportive network, a beautiful village."
In this article