Express
Lip and Cheek Tint: The Lowdown on this Spring Beauty Trend
From effortless second-skin makeup bases to pops of soft colour on the eyes, this season is all about a dreamy, dewy look. 
One of our favourite emerging spring beauty trends is the lip-and-cheek-tint-takeover. The product has won the beauty world over, and it's easy to see why. 
A lip and cheek tint can be applied to multiple areas on the face (the lips, the cheeks, and the eyes), making it a convenient and cost-effective option that also saves you space in your makeup bag. 
In this guide, we explain exactly what a lip and cheek tint is and explore how to use it for the best results.
What is Lip and Cheek Tint?
A lip and cheek tint is somewhat of a hybrid product; it blurs the lines between a dewy gloss and a rich lip stain. A lip and cheek tint can add shine and colour to multiple areas of the face, including the lips, cheeks, and eyes. 
It's also a buildable product, which means you can start light and layer up, depending on how pigmented you want the colour to be. 
It's a multi-purpose product, so it's ideal if you like to keep your makeup collection to a minimum if you're travelling, or looking to save some money while updating your stash. 
A lip and cheek tint is also perfect for having on-hand for touch-ups — you'll only have to carry one product around, instead of lugging a lipstick, blush compact, and eyeshadow palette around.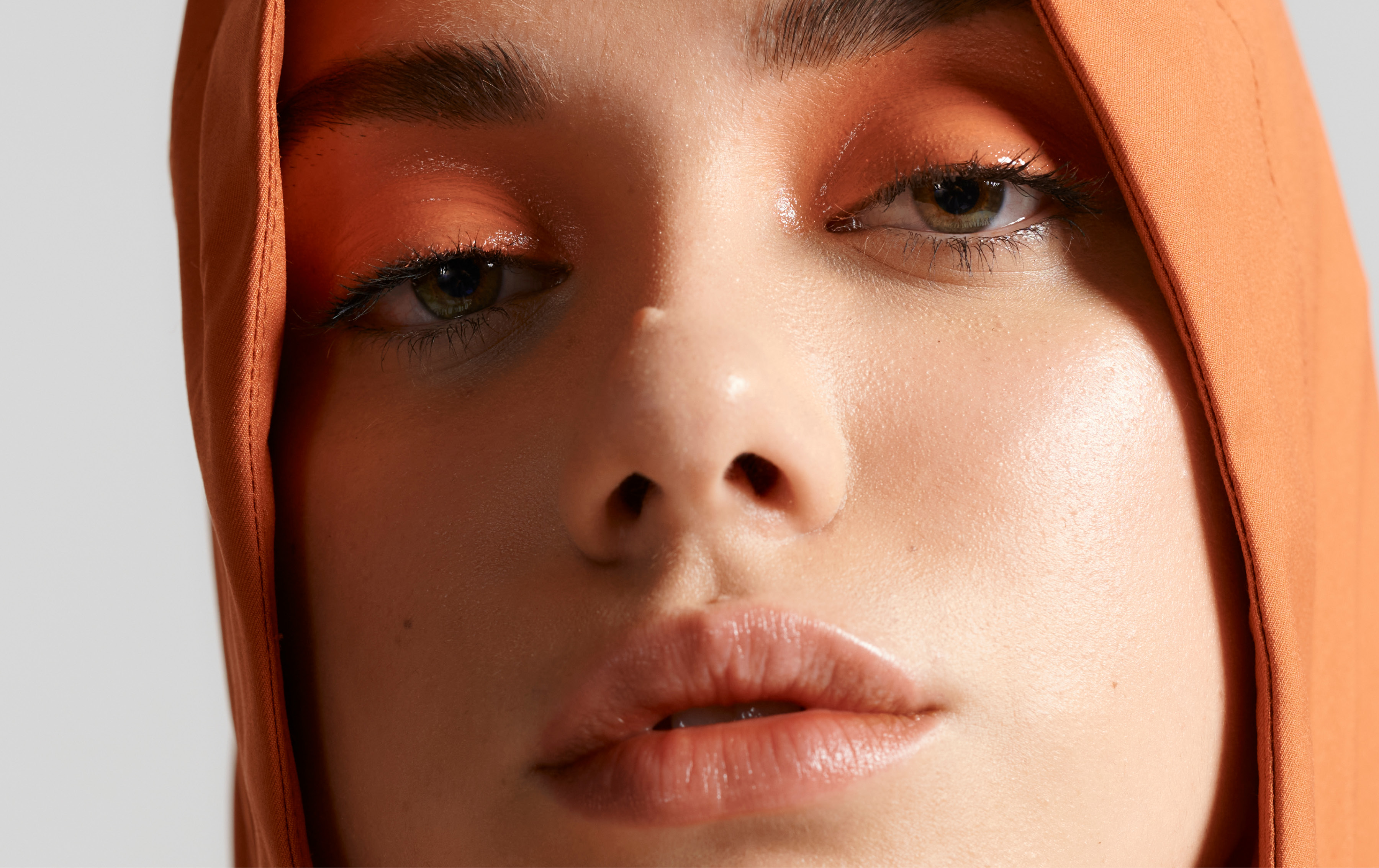 How to Use Lip and Cheek Tint
First things first: you'll need to find the right match for your skin tone. 
It goes without saying that you should wear whichever colour makes you feel most confident — there are no real rules! 
However, if you're not sure which colours to look to, here's a guide to get you started.
+ Fair Skin – Go for a softer shade. Think baby pink for an everyday blush, peach (especially if you have yellow undertones), or plum if you're going for a more dramatic look.
+ Medium Skin – Look at slightly more pigmented shades, such as apricot, golden peach, and pink berry tones. 
+ Olive Skin – Cool blush hues tend to look a bit muddy on olive skin tones, so go for warmer tones instead. Consider rose and shimmering peach shades.
+ Dark Skin – Cooler tones can look ashy on dark skin, so opt for warm hues including deep terracotta, burnt orange, and red-coral.
When you're on the hunt for the right shade, test the colour on the apples of your cheeks. Does it clash with your natural lip colour? If it looks unnatural, try another option.  
Whether you're applying the lip tint to your lips, cheeks, or eyelids, we recommend starting light. You can always build up the colour as you go (working backwards is much trickier!). 
Let's take a closer look at exactly how to apply lip and cheek tint to each of these areas. 
Our Favourite Lip and Cheek Tint
Now, for the best bit: our recommendations for the best lip and cheek tint products.
Ere Perez Carrot Colour Pot
This colour cream balm is the lip and cheek tint you've been dreaming about. It contains plant-based ingredients, including vitamin-rich carrots, that will keep the skin nourished and hydrated.
The naturally-pigmented formula melts into the skin, delivering a dewy, flushed finish that appears natural and undone. The pot also features a mirrored lid for convenient touch-ups!
Flavedo & Albedo Dew Tint 
The Flavedo & Albedo Dew Tint infuses the cheeks and lips with a flush of colour.
It is made with active ingredients that plump the skin and reduce the appearance of fine lines, so its benefits are two-fold.
The formula is hydrating and designed to deliver a non-drying, non-sticky result. It also arrived in a recycled and recyclable pot. 
Ere Perez Beetroot Cheek & Lip Tint
Ere Perez's long-lasting Beetroot Cheek & Lip Tint is a water-based formula, crafted from beetroot extracts that naturally hydrate the skin.
This formula is rich in antioxidants and lasts all day long, so you won't have to worry about regular touch-ups. It comes with an applicator for effortless, mess-free application. 
How to Apply Lip Tint to Lips
As its name suggests, the most popular way to use lip and cheek tint is to apply it to the lips. 
A lip tint is as hydrating as a lip balm, but it is also paired with a pigment-rich, long-lasting hue. Your lips get the best of both worlds — all-night colour and comfort. 
The product differs from lipstick as it is generally a creamier and more highly pigmented formula that glides effortlessly onto the lips. You won't have to work it in laboriously; it settles into the skin beautifully. 
You can either swipe the tint across naked lips or use it to top off a coat of lipstick. It will deliver a hydrating, ultra-glossy finish in both scenarios.
The application process will differ slightly depending on whether you have an applicator or a pot-style tint.
Follow these steps for the perfect lip tint application every time.
Step 1: Exfoliate Your Lips 
Make sure your lips are free of dead skin so that you have a clean, smooth base to work with. 
If you have a lip scrub handy, now is the time to use it. Massage the product into your lips in a circular motion. Be gentle as the skin on the lips can be prone to sensitivity. Once finished, rinse with lukewarm water.
If you don't have a lip scrub, simply grab a towel or exfoliating glove and gently massage the lips, then rinse.
Step 2: Moisturise 
After you've exfoliated, your lips might feel a bit raw. It's important to rehydrate them straight away.
Apply a small amount of lip balm and let it sit for a few minutes. This allows the lips to lock in all that delicious moisture and nourishment. 
We recommend the Grown Alchemist Lip Balm, which is vitamin-rich and deeply nourishing. 
Step 3: Apply the Lip Tint 
If your lip tint comes in a pot, rub your index finger into the pot and allow your fingers to melt the natural oils in the lip tint. Then, dab the colour onto your lips, starting in the centre and working your way outwards.
For lip tints with an applicator, start in the centre of your upper lip and work the product to the outer corners in gentle, sweeping motions. Repeat for the bottom lip.
Step 4: Build or Blot
If you're going for a very pigmented look, add another layer of lip tint. When applying the second layer, apply a thin coat to avoid build-up.
For a more natural look, blot your first coat with a tissue. This will help to dilute the colour and create a softer appearance.  
Top tip: For extra shine, apply a gloss like the Ere Perez Mango Honey. The formula will infuse the lips with hydration and create a glass-like finish. 
How to Remove Lip Tint
When you're ready to remove your lip tint, you can use an oil-based or waterproof makeup remover to soak the colour away.
Apply the solution to a cotton pad, then glide the pad over your lips to remove the colour.
Alternatively, there are some natural techniques you can use.
Olive or Coconut Oil – Drizzle some olive or coconut oil onto a cotton pad and gently rub it over your lips. This will help to loosen the colour. Then, take a dry pad and pat dry. Once the colour has been removed, you can add another layer of oil to rehydrate your lips.


Toothbrush – Sometimes rubbing the lip tint off your lips will leave some residual tint in the ridges of your lips. Apply a lip balm, then scrub your lips gently with a toothbrush.  When finished, wipe away the excess with a damp cloth.
Vaseline – Apply a dollop of vaseline, about the size of a five-cent piece, onto your lips, and leave it to sit for a few minutes. Wipe away with a damp cloth to finish. 
How to Apply Cream Blush/Cheek Tint 
A lip and cheek tint doubles as a cream blush, which is an essential product in any makeup collection. 
The creamy formula blends beautifully into the cheeks, delivering that natural, flushed glow that is dominating this season's looks. 
So, how do you apply a creamy cheek tint?
Step 1: Start with Skincare
Follow your normal skincare routine, finishing up with moisturiser and sunscreen.
Give your skin a few minutes to absorb the product to ensure it doesn't pill on the skin underneath your makeup.
Step 2: Apply Your Makeup Base
Next, apply your makeup base.
Work in your primer, then foundation BB cream, or CC cream, and blend well. We love the Era Perez Oat Milk Foundation for a lightweight, dewy finish.  
We recommend using a damp beauty blender for that ultra-glowy, natural skin-like look. 
Step 3: Apply Your Cheek Tint
If your cheek tint arrives in a pot, scoop out the product with your index finger, and rub it between your finger and thumb. This helps to warm up the product and allows for smooth application.
Then, gently dab it onto the cheeks from the apples of the cheek up towards your cheekbones. This will give you a lifted look. Blend out with your fingers or your damp beauty blender.  
If your cheek tint has an applicator, dab a few dots onto the cheek and work the product into your skin with your fingers or a beauty blender. 
Step 4: Removal
To remove your cheek tint, we recommend using an oil-based makeup remover balm. Simply scoop out the product and massage it into the skin, as you would your cleanser.
This helps you gently lift the colour from the skin without having to scrub away with a makeup wipe. It's a softer option for the skin, and it's also a more environmentally-friendly option, as we know make-up wipes are bad for our planet. 
Other Spots to Apply Lip and Cheek Tint
You can also use your lip and cheek tint as an eyeshadow. We love this approach as it creates the most natural, understated, and cohesive makeup look. 
Apply two small dots onto each eyelid and blend outwards, either using your finger or a fluffy eyeshadow brush.
Alternatively, apply the tint as a contour. Dab the product onto your upper cheekbone, about 45 degrees down from your eye. This will give you a sculpted, lifted look while adding some colour to your complexion. 
This is a great option if you find contour looks muddy on your complexion, or if you're going for a softer finish.  
How Long Does Lip Tint Last? 
Each product will differ, but lip tints generally last anywhere from four to eight hours. 
Lip and Cheek Tint: The Spring Beauty Trend to Know
We have a feeling this trending beauty product isn't going anywhere.
The multi-purpose, easy-wearing lip and cheek tint is set to become a staple in your makeup bag. 
Shop the lip and cheek tint products mentioned above, as well as a range of other makeup essentials. 
In this article