Express
How to Take Your Makeup from Day to Night (Yes, Really)
Need your products to do overtime? It's all in the prep.
I saw a meme recently that read something to the tune of "Women's magazines really had me thinking going from 'desk to drinks' would be much more of a thing in my adult life than it has been." 
This could come down to a number of factors (so many people work from home/some people go home to freshen up before heading out/work is exhausting so who wants to go out after it), but my take is that so many of us are more than happy to keep our "look" the same, regardless of whether we are at a desk or at said drinks. 
If that is indeed the case, then I personally think there are still a few desk-to-drinks style hacks that we can adopt come Friday afternoon... but they're a little different to the "keep a red lipstick handy to amp up your look for nighttime!" women's mag tips that may spring to mind. 
Here are a few of my very best tried-and-tested tricks for taking my makeup from day to night (whatever activities those time periods involve). 
Step 1. Not to Prime is a Crime
For me, taking a look from day to night is less about adding touches or darkening elements for the evening- it's about starting with a really simple, beautiful look, and then doing the beauty equivalent of bulletproofing. That process begins with primer. 
Primer comes in many shapes and forms (less shapes, more forms), but when longevity is your goal, you want what I call a "grippy" primer. A grippy primer is usually slightly mattifying, and is one formulated purely to give your foundation a really smooth base to adhere itself to.
While I love a light-reflecting primer, these are usually formulated to give your foundation a "lit from within" glow rather than to deliver longevity (although there are some primers that masterfully combine the two!). If my goal is a base that will survive from early in the morning until well into the evening, I find a mattifying primer works best.
It's worth noting that a mattifying primer doesn't necessarily mean a matte finish on the skin. There are ways you can build up your glow strategically, which brings me to step 2…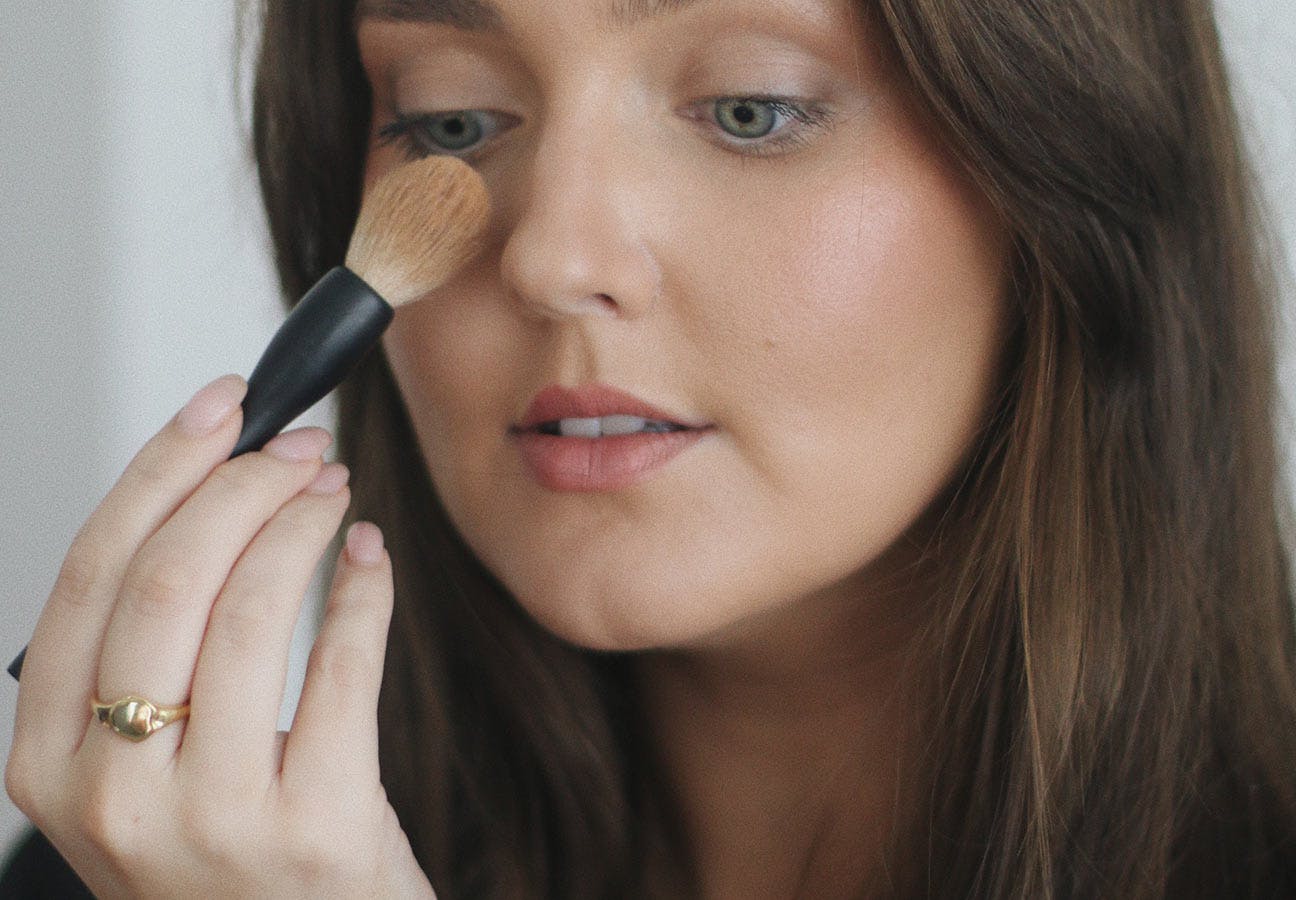 Step 2. Build Up Your Glow, Strategically
Day to day, I'm going for a glowing, dewy finish on my skin all over, then I'm applying a mattifying product or blotting away excess shine down the centre of my face.
Ere Perez
Quinoa Water Foundation
To ensure my skin still glows, but my makeup lasts, I'll apply a satin to matte finish foundation (satin falls somewhere between dewy and matte on the foundation finish spectrum).
Ere Perez Quinoa Water Foundation is great for this, as it feels weightless on the skin but leaves it with a lovely matte finish rather than looking and feeling cakey like some matte products can.
Ere Perez
Arnica Concealer
I'll follow that up with concealer in any areas where I feel my foundation is likely to "separate" by late afternoon (for me, this is around my nose and in the centre of my forehead), then I'll apply a setting powder pretty much everywhere except the very tops of my cheekbones.
Ere Perez
Vanilla Highlighter
Here is where I'll apply a powder highlighter (as I find that powders generally last longer on the skin than fluids), and in the evening I'll take a cream highlighter pot and use my fingertip to add more glow as a "topper".
The trick here is being strategic with your "glow" products, working in fine layers, rather than going all out and having to bring it back to matte. 
Step 3. Rethink Your Setting Spray
This is a simple tip, but it's one I learned a few months ago that has transformed the staying power of my makeup almost beyond measure.
A makeup artist recently taught me that I should be going pretty heavy with my setting spray, rather than just doing a light mist as one might use a perfume.
What makes a setting spray different from a facial mist is that is contains particles that are formulated to help your makeup bond to your skin, so you want to really ensure your face is coated in spray- then simply fan your face until it's dry!
We love the Holme Beauty Setting Spray.
Step 4. Okay, fine. This is how you really "ramp it up." 
Red lippie aside, there is one trick I've long relied on to add "drama" to a daytime makeup look, and it requires absolutely zero technical skill.
When the time comes, I'll whip out a soft eye pencil or a eyeshadow.
If I'm using a pencil, I'll scribble it over the outer third of the mobile eyelid. If I'm using a shadow in a pot, I'll use my finger to apply the shadow to the same area.
Then, I'll use a brush or my finger (whichever my mood dictates) and smudge it out.
I love doing this with bronze tones as they're very forgiving, and ideally using a pencil or shadow with light reflecting pigments, as they appear to have more dimension which tricks people into thinking you've used multiple shades.
Magic! 
In this article