Express
How to Curate a Considered Capsule Wardrobe
The capsule wardrobe is by no means designed to remove the playfulness from fashion, but instead serves to solve the 'what should I wear' dilemma.
As we navigate returning to the office regularly, perhaps even - gasp - full time, and non-restricted social gatherings; getting dressed up again can still feel somewhat overwhelming.
There seems to be a general desire to have fun with fashion again, but if you've fallen out of love with your before-times wardrobe, perhaps it is time to reconsider your closet and invest in a more sustainable solution.
Enter the capsule wardrobe - with a considered twist.
An idea that began to ruminate globally thanks to an article in Vogue in August 1941. The concept explored the perfect wardrobe for the contemporary college woman with 16 unique pieces for campus living.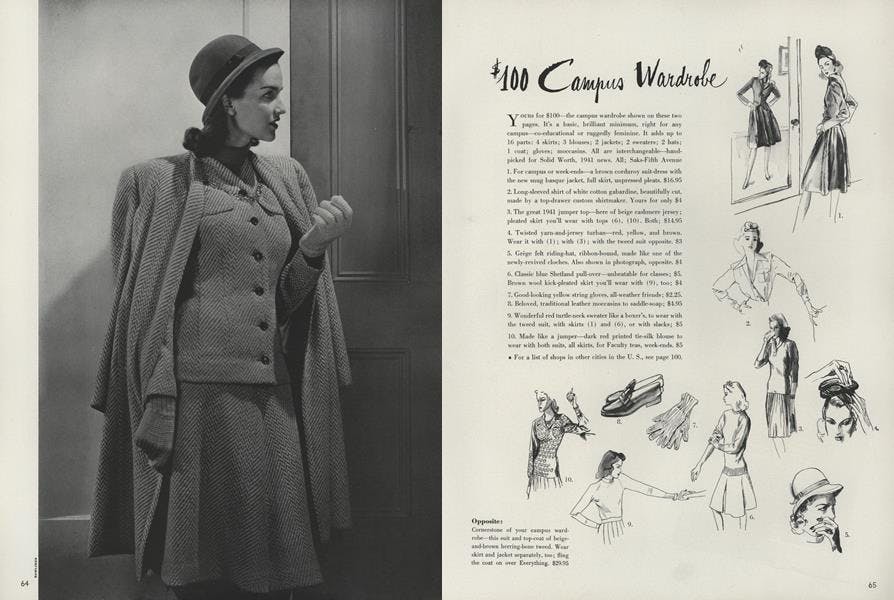 The concept didn't completely take off until the popularity of power-dressing emerged in the late 1970s, and the first 'capsule wardrobe' was coined by Susie Faux, businesswoman and founder of London boutique, Wardrobe.
Out of frustration for the female equivalent to quality male-tailoring, and a lack of well-made pieces, Susie reimagined a streamlined approach to dressing, with interchangeable pieces to be worn across the seasons. 
The capsule wardrobe appears to be ubiquitous once again, with minimalist, curated Instagram feeds taking charge of the creative direction, often inadvertently bringing the sustainable concept to mainstream fashion.
It doesn't need to be only caramel, beige and oatmeal hues, however, as the origins of a capsule wardrobe remain the same. Rather: key, wearable elements on rotation that reflect your personality.
Invest in quality pieces you love, rather than a new shirt that will only hold your attention for a season at most.
While monochrome basics are the building blocks for your foundation, a capsule wardrobe should never feel restrictive if you hold colour close to your heart.
Evaluate your wardrobe and discover shades you love, be it soft pastels, oceanic blues or bold jewel tones - and map out your colour palette to allow a splash.
There is no golden rule to how many pieces you should own, it all depends on what you love and your lifestyle.
Livia Firth, founder of Eco-Age, challenges consumers to ask themselves one thing when shopping: 'will I wear this at least 30 times?'
The capsule wardrobe is by no means designed to remove the playfulness from fashion, but instead serves to solve the 'what should I wear' dilemma. You can add seasonal pieces that grab your attention, and elevate your confidence, as these basics are designed to pair with anything. 
Blazer
Look for a structured blazer crafted from certified organic cotton or a sustainably sourced wool-blend for breathability and warmth. Pair with a classic shirt and denim for a relaxed look, or dress up for the evening with a little black dress. 
Trousers
A good fitting pair of trousers can elevate any silhouette. Silk and hemp blends create an effortless drape, while darted wool blends cultivate a more utilitarian structure. 
Denim
As a significant contributor to water pollution, sustainable denim can be difficult to navigate. Denim crafted from certified organic cotton, with full traceability are your best solution, reducing water consumption up to 91% compared to traditional denim.
Shirt
Classic, oversized cuts will remain timeless and can just as easily elevate an ensemble, and be worn to the weekend markets with denim at the same time. Organic, natural fibres such as GOTS certified cotton, hemp or silk allow for a lighter impact, and greater wearability. 
Top
Consider tops crafted from certified organic, natural fibres for longwearing breathability. A slimline singlet is the ultimate for summer - pairing well as a base layer under open shirts or blazers, while a crisp t-shirt or long-sleeve top are easy to please. 
Coat
While an investment purchase, an ethically-crafted coat is a timeless addition that should last you across numerous winters. Look for a classic, oversized cut, made with responsibly-sourced wool, or a trenchcoat crafted from natural fibres for a lighter layer.
Knitwear
Worn layered or on its own, quality knitwear is the cosy comfort we all deserve. Again, look for certifications to ensure ethical treatment of animals, such as GOTS certified cashmere - hand-picked in spring when the goat naturally sheds. 
Dress
Versatile, transitional dresses are the key to a capsule wardrobe, able to be worn across seasons, and dressed up or down. A classic silhouette with finer details will feel more timeless, avoiding virgin polyesters and non-organic materials for a sustainable choice.