Express
How to Achieve "Your Skin But Better" Makeup
Getting that no make up make up look is down to skin prep, choosing creamy blushes and highlighters and a dewy foundation for natural glowy makeup. Gemma Watts shares her application tips and favourite products.
I am good at one makeup look and one makeup look only: the "no makeup" makeup look. 
To some, I'll say that given how much time, energy and money I spend on caring for my skin that it would be a shame to mask it. To others, I'll confess that I am simply a one trick pony.
Either way, I have spent years tweaking and trialling my makeup application techniques to ensure that my skin always looks like my own skin - only better. 
Now that event season is upon us (in a big, big way), we're all looking to perfect our beauty routines and work some new makeup techniques into our repertoire.
Given that I have one singular ability in this space, I'm here to impart what I know.
I find that fresh, dewy makeup serves as the perfect base for just about any makeup look - I'll wear no-makeup-makeup day-to-day, but I also like to use these techniques for a night out and simply ramp up my cheek colour and add a deeper eye or lip. 
It's all in the technique: here are my three biggest and best tips for achieving a natural, glowy, "your-skin-but-better" base. 
Tip 1. It's all in the preparation 
I firmly believe that makeup that sits beautifully on the skin really does come down to skin prep.
You don't need to have "perfect skin" to achieve a no-makeup finish (and frankly, no such thing exists), but I find that my foundation always blends really seamlessly into my skin if I've hydrated it well ahead of my makeup application. 
I like to use a water-based cleanser, when I'm applying makeup, as opposed to an oil or balm, as I find foundation doesn't grip the skin as well if I've used the latter options.
I love the texture of Habitual Beauty's Balancing Cleanser as it leaves the skin feeling really deeply cleansed (and clean skin means a clean makeup application).
What I love even more is that is contains lactic acid and fruit extracts to help dissolve any dead, dry and dull cells that may be lingering on top of the skin's surface.
This very, very gentle exfoliation will give you a smooth canvas to begin with.
Beyond cleanser, I don't make any other changes to my skincare when I'm prepping for a makeup application.
I'll apply an essence, serum and moisturiser, really taking the time to massage them into the skin (facial massage allows you to plump up the skin and get the blood flowing, again ensuring you're looking fresh and bouncy when it comes time to apply your makeup), before locking in my skincare with a sunscreen (nighttime makeup being the exception).
If I'm wanting to achieve a dewy foundation finish, I make sure I'm using a super hydrating sunscreen.
Grown Alchemist's Natural Hydrating Sunscreen can double as a primer and really give my foundation something to melt down into.
Tip 2. Work in light layers 
We've all heard the adage that natural, glowy makeup is actually the most complicated finish to achieve, and it's one of few makeup tropes that I'll never dispute.
The "your skin, but better" look actually requires more products than a full glam look, however the trick is to work in really light layers. 
After skincare, I like to apply a light-reflecting, illuminating primer - this step is less about staying power for me and more about creating a really radiant, glowing layer to peek through my foundation and give the skin a lit-from-within glow.
Next, I apply my foundation. The method of application really comes down to what you're most comfortable with (I like to use a densely packed buffing brush) - the important point is to only apply a small amount of product at a time.
How to get a dewy foundation look
It's much easier to build up your coverage than it is to sheer it down once it's already on the skin.
I like to remind people that your foundation really can just be a wash of colour, so and it's your concealer that will deliver the coverage for you.
When choosing a foundation, I look for something creamy and with a satin or dewy finish on the skin, like the Ere Perez Oat Milk Foundation. 
Spot concealing is another big trick to achieving a dewy makeup look. Only apply concealer where you really feel you need it.
This way, you'll still be able to see a hint of that glow underneath (too much concealer will mask your work thus far!) I'm loving the Ere Perez Arnica Concealer for a dewy finish.
I believe that using your fingertips is the best way to apply concealer for a natural finish, as the warmth of your fingertips will allow it to melt into the layers of skincare and foundation you've already applied, keeping your look seamless.
Always apply concealer after foundation. Foundation does offer coverage so it will mask quite a lot of discoloration, so you won't truly know where you need or want additional coverage from concealer until after you've applied your foundation.
Applying your concealer first will result in using unnecessary product (plus, your foundation may well move your concealer out of place!).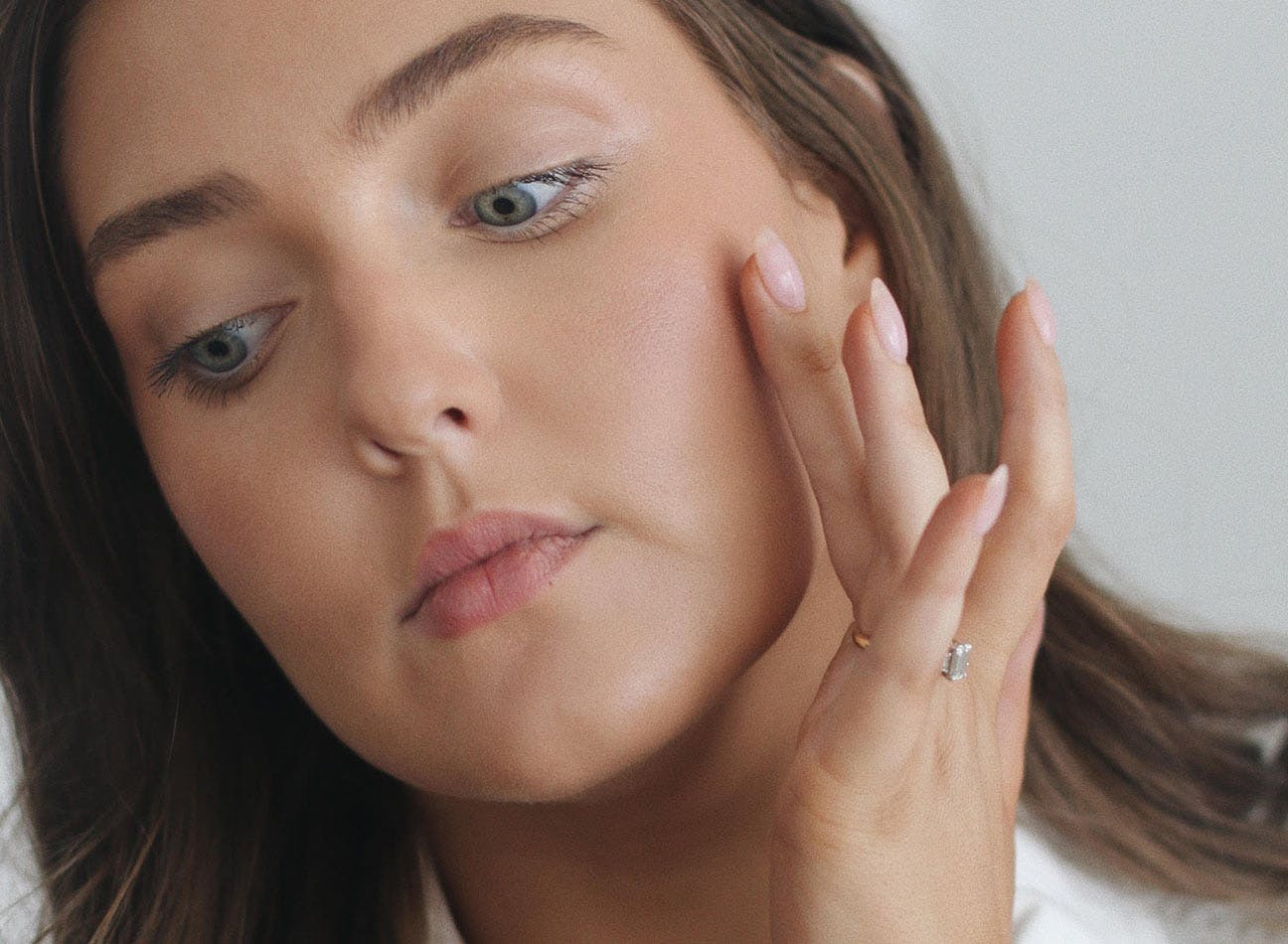 When it comes to setting my foundation and concealer, I find it best to use powder as sparingly as possible to ensure my foundation still looks dewy, only applying powder to areas of the face where I want to reduce shine.
I have always found that a pressed powder works best for this, as you'll generally pick up less product on your brush when using a pressed powder as opposed to loose powder.
Again, it's far easier to build up product in light layers than it is to apply too much then need to strip it back. 
Tip 3. Opt for liquid and cream finishes

Once you've applied your foundation and concealer for skin with that lit-from-within glow, it's time to add glow and dimension to the skin with bronzer, blush and highlighter. 
Worth noting - a lot of people don't like to apply cream products over powder, choosing to set their makeup with powder as a final step. I personally have never had a problem layering in this way, so once again perfecting your makeup look really does come down to trial and error and discovering what works for your own skin. 
To maintain a "no makeup" finish, I recommend using a bronzer, blush and highlighter with either a cream or liquid consistency (if you're still mastering your makeup application, creams are easier to work with than a liquid).
Much like concealer, a fluid or creamy consistency like the Ere Perez Carrot Colour Pot creamy consistency will allow the products to melt right into your beautifully hydrated and prepped skin, rather than sitting on top of it. 
Highlighter is absolutely the key to making your foundation look dewy. I love the Flavedo & Albedo High Glow pot in Pearl, as you can really press it into the skin and manipulate its placement to look as natural as possible.
New to highlighter? Start by applying it wherever you want your skin to really catch the light. I like applying it to the high planes of the face- the brow bone, tops of the cheekbone, and the cupid's bow.  
In this article