Express
High Brow: The Rules of Eyebrow Maintenance
Fresh from styling the fashionable faces of Melbourne's celebrity scene, brow stylist Kim Evans clues us up on the best insider tips and tricks for maintaining your brows.
Bianca O'Neill
Fashion & Travel Journalist
If there's one person you go to for the perfect brows and lashes, it's brow expert Kim Evans.
Her much-loved business Lux Brows and Lashes, based in Melbourne's Essendon, has been a popular pit stop for a swathe of local celebrities for over eight years.
But during the pandemic, an innovative pivot saw her new line of lash and brow beauty products take off, as Australians increasingly dabbled in at-home beauty care.
"I thought, well I've got to think outside the box – and I created a product range, purely brows and lashes," Kim told me about launching her small, boutique brow and lash line. "I have about six products, but it covers everything."
Since the launch, she's seen the range grow in popularity, despite her clientele returning to the salon for in-person pampering. "I'm very lucky, I've got a great lot of clients that trust what I bring out."
And when it comes to brows, trust is tantamount. As the ultimate face-framers, a tactfully sculpted brow can make or break your entire makeup look.
So, we chatted to Kim about everything brow-related, from her top tips and best kept secrets, to the latest trends - including those questionable 90s skinny brows touted to make a comeback… suffice to say, as a natural brow enthusiast, her reaction was less than enthusiastic.
How would you define a natural-looking brow, and how can someone at home achieve this shape?
"Leave the top of the brow, the hair – don't make that a perfect line. That top hair should be more natural looking, with a beautiful base that is really defined and sculpted. When the top of the brow is a really harsh, defined line – that's when it starts to look a bit too fake."
What's the biggest mistake most people make when it comes to their brows?
"Everyone always chooses a brow powder that's too dark. Everyone! I would say 90% of people, when I get them to look at the palette, and ask which colour they would choose, they always go too dark."
"Always go softer. If you apply the powder in a lighter colour, you can apply more but get that fuller shape. If you apply a darker powder in the same way, they just look too heavy on your face."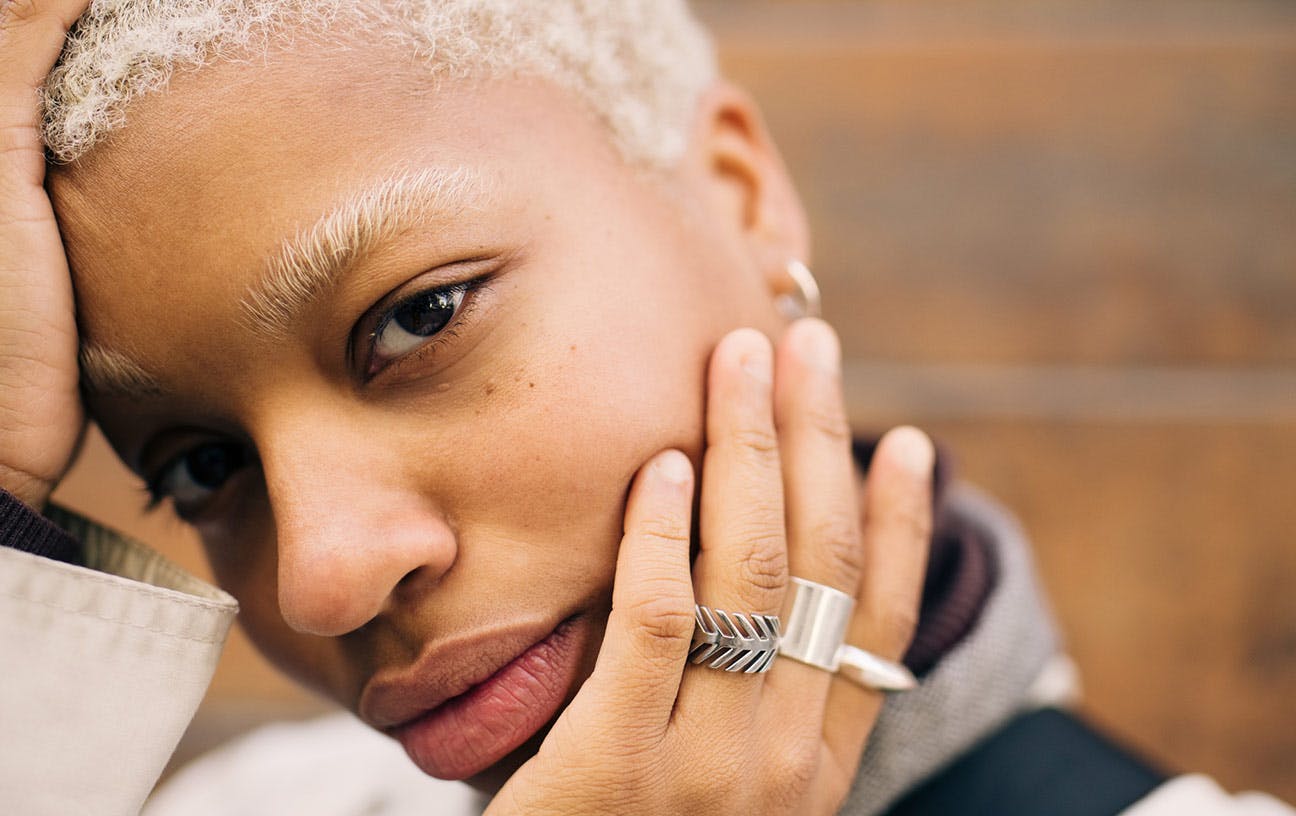 What's the one key product that you would recommend for people to use to care for their brows?
"I would say, for that really natural look brow, a brow highlight pencil. That's a white brow pencil – not an eyeliner, they're different. A white pencil, it's so understated – it really brightens and defines the shape."
"It's drawn underneath the baseline of the brow, and while it defines the brow shape, it also brightens your eyes. It makes the eyes pop. If I was to wear no makeup, I would just put brow soap and white highlight pencil – not mascara, not anything."
What's your best brow secret?
"The best addition to your products at the moment is brow soap, because it lifts that hair at the base line, exposes that beautiful clean line that you've got, and gives you that soft fluffy brow look on the top."
"You apply it with a spooli*. Some people like to dampen the brush to get a softer look. To get a more defined, more lifted look, don't wet the brush."
*Note: This is the spiral brush you find in mascara, also used for eyebrow maintenance.
What are your thoughts on the rise in the lamination trend?
"I love lamination, but not everyone can have it. Lamination creates a fluffier brow, and it contains the unruly brow hairs. What you can do if you've got the unruly, long or curled brow hairs, we can relax those hairs during the lamination."
"But it does lift up from the base – so if you've got holes or gaps in the baseline of your brows, that will be revealed, so you'll need to a brow defining pencil to build that baseline in. I think most people think they're going to get this miracle, fuller brow, but don't understand that the lift is coming from the base, which creates fullness."
What are your thoughts on the rumours that there will be a return to 90s skinny brows?
"Not much at all! I'm not quite sure who can pull it off… I'd be surprised if that comes back, because we're embracing more of a natural makeup look as well at the moment."
"If those follicles die during the process, it will never grow back. So if you pluck your brows that thin, consistently, potentially you could damage the follicle. It might never grow back."
What is the brow stylist red flag we need to be looking out for?
"We do not cut the brow hair. We are more of a natural brow look – others will trim the brows to get the more solid, accurate line at the top of the brow. But just think about it – if you push your brow hair up, and then you chop that off, the brow hair naturally falls to the outer of the eye and then creates gaps and holes."
Bianca O'Neill
Fashion & Travel Journalist