Live
Create Space: How to Cull Your Closet
What's the best way to declutter your wardrobe? How do you know what to ditch and what to keep? Bianca O'Neill explains why culling your closet may just inject a little more zen in your morning routine.
Bianca O'Neill
Fashion & Travel Journalist
There's something truly invigorating about a wardrobe clean out.
Beyond Kondo's illustrious advice to only keep items that 'spark joy', I also enjoy a newfound sense of serenity at seeing everything in its place.
A kind of sartorial feng shui, if you will.
There's an old proverb I tend to live by: cluttered wardrobe, cluttered mind.
As a serial wardrobe organiser myself, I like to think I've got closet culling down to a fine art.
So if you're one of the many who battle with their overflowing closet every morning, lamenting a lack of anything to wear, chances are you're simply in desperate need of a wardrobe refresh.
Here is our guide to the ultimate closet clean out.
Where do you start?
The first step is to choose a day when you have no prior commitments.
A complete closet refresh is a huge undertaking if done properly, and a few hours just won't cut it. The last thing you need is to get halfway through, clothes strewn across the room, only to have to run to a class or appointment.
I wholeheartedly agree with my aforementioned decluttering guru Marie Kondo – the best way to a fresh, organised closet is to remove absolutely everything and start from the beginning.
Remove all the items from your wardrobe, then sort your clothes into categories that make sense to you. For me, I like to categorise roughly according to season, followed by style.
Summer – split into tees, singlets, shorts, skirts, light dresses. Winter – split into jumpers, pants, coats, heavy skirts and dresses, etc. That way, if you have awkward, unreachable sections of your wardrobe, you can rotate the out-of-season clothing to these areas, keeping current season styles prominent and easily within reach.
But before you put anything back into your closet, it's time for a cull.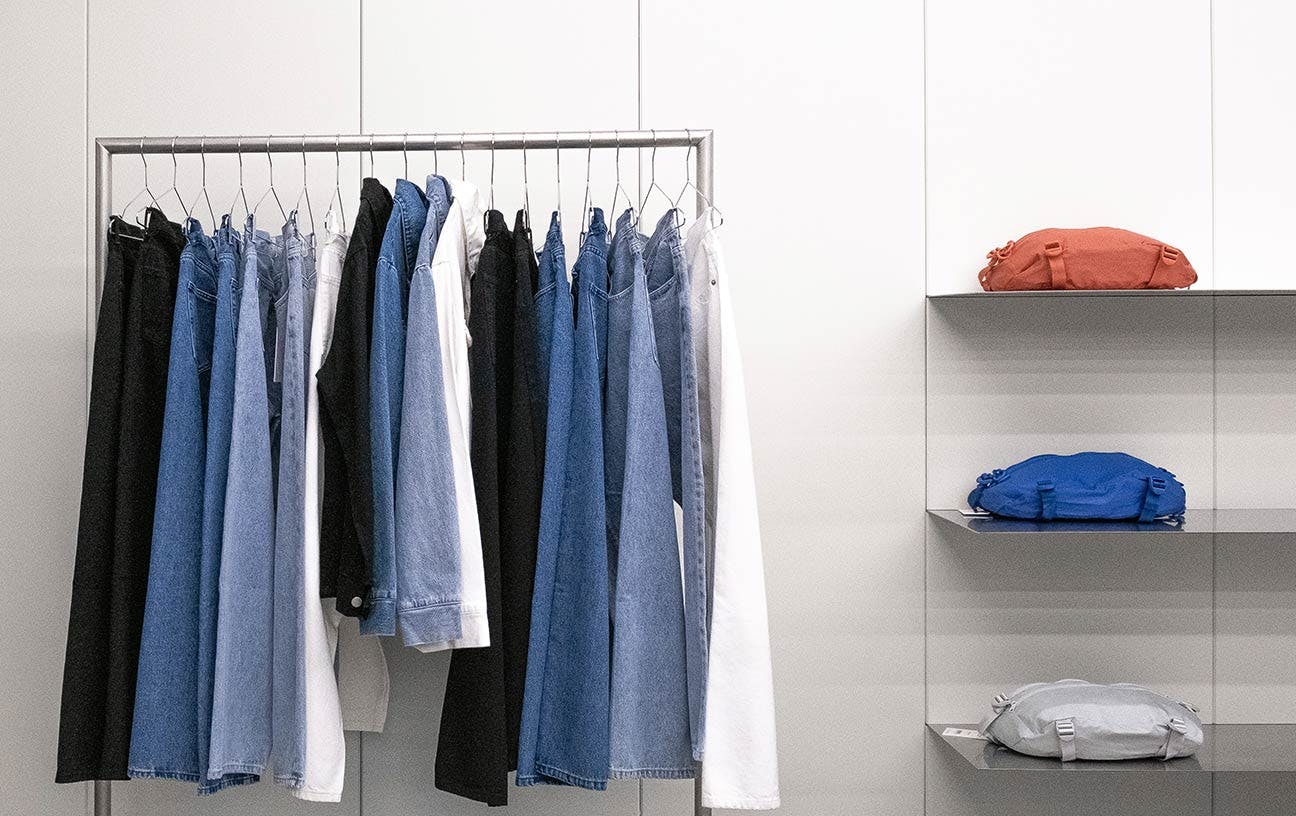 How do you know what to ditch and what to keep?
Personally, I find the best way to decide what you want to keep is to try everything on. It sounds arduous, but it's truly the only way to remove any emotional attachment to old clothing that doesn't fit, or doesn't suit your style anymore.
As I try each piece on, I ask myself: would I buy this if I was in a store right now?
If I wouldn't, why? If it doesn't fit, isn't flattering, or isn't comfortable, put it aside to resell, donate or recycle. If it needs mending, or a simple alteration could make it work, put it in a pile to have it fixed. If it makes you happy when you try it on, keep it.
How should you organise your newly culled closet?
Now that you have your reduced 'keep' pile, assess the space in your closet. Do you have lots of drawers or cupboards, and not much hanging space? Prioritise styles that require hanging first, then when you run out of room, fold everything else – or vice versa.
To maximise hanging space, use tiered pant hangers and do away with bulky hanger styles. For drawer space, fold items and store vertically rather than as a pile, so that you can see and access each item easily.
For shelving space, consider wire bins – they act like drawers, so you are able to store more items without spillage and messy piles, whilst still being able to see everything inside at one glance.
I organise hanging space in order of season, then style, then colour.
Within a winter block, items are hung in the aforementioned category sections (jackets, coats, pants, shirts, jumpers etc), then within those categories according to colour.
For jewellery and accessories, clear Perspex jewellery organiser boxes are a great way to keep your trinkets visible, safe and separated. Organise according to colour (gold, silver, other), followed by occasion (formal, informal).
Clutches and handbags work well in a wire bin that you can easily pull down and see everything contained within. Depending on your space, shoes can be kept in clear boxes for stacking, or try pantry organiser shelving to add a modular second layer – with flats stored underneath and heels on top.
Luxury handbags and fine jewellery are best kept in their original dust bags and boxes. To retain shape, you can purchase bag shaper pillows that fill out the interior whilst not in use.
To keep items visible and easily accessible, you could also consider adding a picture of the bag to the outside of each box.
If you find you don't have enough space in your closet to fit all your items comfortably, consider what categories can be stored elsewhere.
If it's summer, can you store coats in another closet during the warmer seasons? If it's winter, can your open toe shoes be put into storage while it's cold? It's a great way to free up space for the items you'll actually wear day to day.
What should I do with my unwanted clothing?
Clothing and textile waste is a huge environmental issue that is placing immense strain on our landfill resources, so don't throw away old clothing. If the clothing is in good condition, consider a second hand market stall, or list the items online. Donating good quality clothing to your local charity is also a great option.
For clothing and textiles that are unwearable, recycle. Many fashion chains offer textile recycling bins in store, or try Planet Ark's website to find a drop off point near you.
Bianca O'Neill
Fashion & Travel Journalist