Explore
Cait Miers Exhibit
Renowned surf photographer and Youtimer Cait Miers shares with us her all time favourite shots, and the story behind the capture.
Caitlin Miers
Photographer
Cait Miers has travelled the globe capturing iconic images for brands.
With a loyal following of almost 100,000 on Instagram and a client roster that includes heavyweights such as Roxy, Billabong, Cotton On, Contiki, Canon, Lululemon and the World Surf League, she is one of the world's leading surf photographers.
But which are the photographs Cait holds closest to her heart?
Cait has opened professional and personal portfolio for youtime, to reveal the story behind the shot - from career highlights and backpacking adventures, to a moment of spontaneity during lockdown.
1. Lockdown lagoon
What better activity to do in lockdown than grab your housemates and go for a dip? This was peak Covid in 2020; I told my housemates to jump in the car and we went exploring at the local beach. The sand had formed this lagoon so it was nice and still and quiet. We are replicating our favourite scene from our favourite movie, Blue Crush.
2. Roxy Exmouth
My latest and biggest campaign for Roxy so far. We went to Exmouth in WA last year (2021) and explored the Ningaloo Reef. It was one of those 'pinch me' experiences and we stumbled across these giant creatures. We also swam with Tiger sharks and turtles too! 
3. Tropicana
I love this shot because it's colours and it's simplicity. Maybe it's a sign of my work maturing, I'm not sure. But I love it, and it's ode to the tropicana I keep chasing around the world.
4. San Blas Islands, 2016
Our backpacking trip in Central lead us to sail from Panama to Colombia in a catamaran. The route takes you through the San Blas Islands, and they're just tiny dotted islands with nothing around, where these people live. I will never forget this place!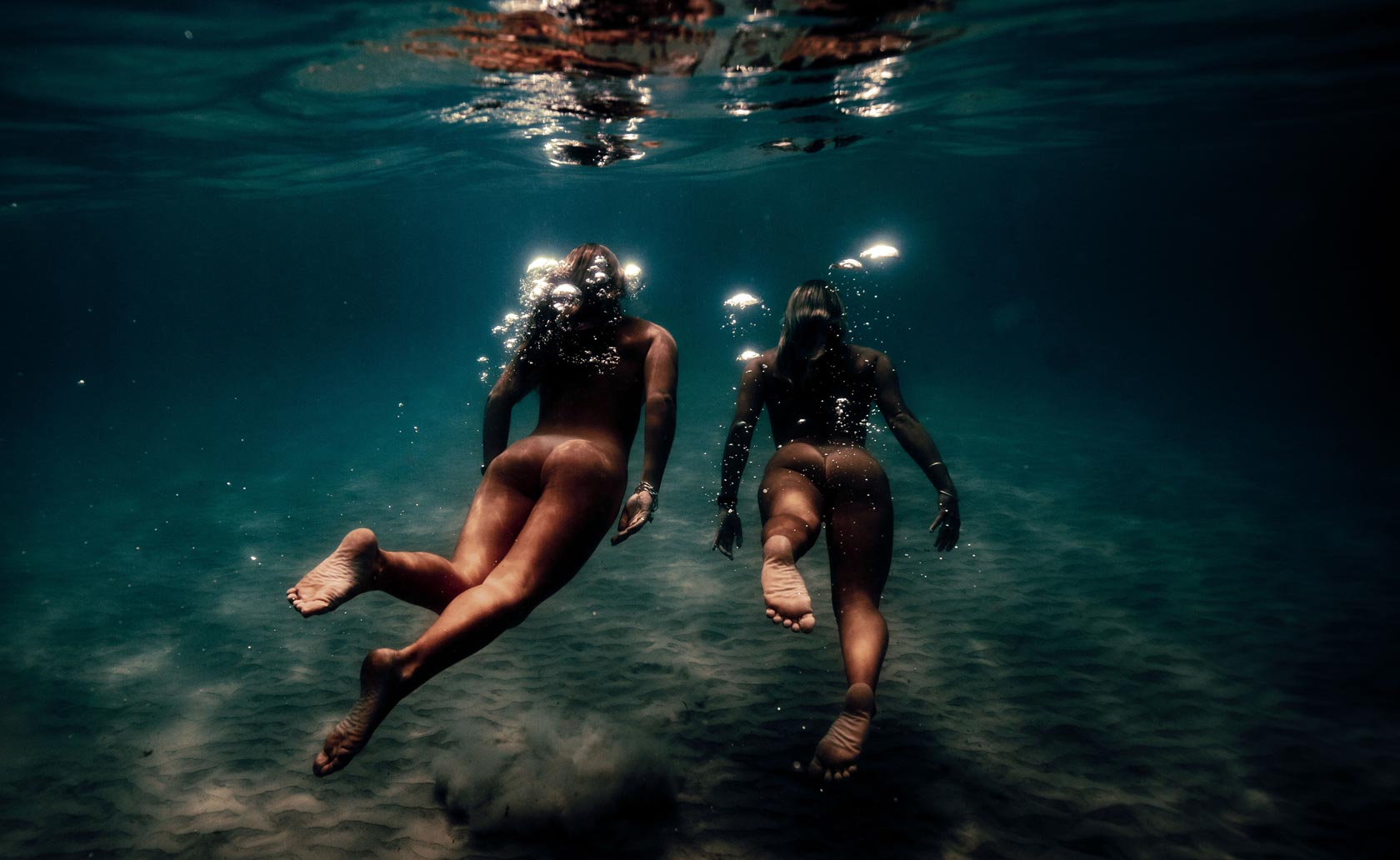 5. Why not
This was also taken in our little covid swim sesh. We all stripped off naked and I just started taking photos of swimming. It was magical and I really didn't expect the images to come out like this. Just my mates and I enjoying the organic beauty of the sea.
6. Aquatech
I'm an ambassador for Aquatech Imaging Solutions (water housing company) and they took us on a trip to the Maldives back in 2019. A week in absolute paradise, testing out all the new equipment. We took a boat out to this sand island and I just popped underwater and got this. The magic that surrounds this location is hard to put in to words!
7. Cuba, 2016
My friends and I backpacked around Central America for 4 months and it was probably the best trip I've ever been on. Cuba is so fascinating, and we spent some time traveling around Cuba and exploring the sites. I was obsessed with the architecture and colours.
8. Byron bay bronze
A recent campaign for Byron Bay Bronze. I think this photo captures my 'fashion' work to a tee. Grabbing those lighter, in between moments is what I love to shoot the most. Super genuine, truth and natural beauty in 1 image.
9. Still amongst chaos
I was on a retreat here shooting with a bunch of different photographers in Bali. Our model jumped in the pool and I managed to capture this still and unfiltered moment amongst the chaos. I always look to capture stillness when things are getting chaotic. Picking off moments, natural moments, they're always my fave.
10. Layday
Our Maldives trip with Aquatech, I took my friend Marina with me and this was just a little moment of solitude we captured. It's probably one of my favourite photos because it's super simple and minimalistic.
You can purchase Cait Miers' prints in her online print store.
Caitlin Miers
Photographer