Express
An Expert's Guide To Finding Your Dream  Complexion
Make up artist Rob Povey breaks down nailing a flawless complexion - from colour matching your skin tone and selecting your best suited foundation formula, to making it last all day, and adding glow.
As a working makeup artist of over fifteen years, I'm made up my share of faces. 
Beyond that, I've probably addressed almost every skin concern there is and for just about every situation you could imagine — from ensuring everything can withstand a long and rigorous day, to wearing beautifully throughout an entire wedding back in my bridal/event makeup days.
Or achieving a flawless picture-perfect base on sometimes less-than-perfect skin, all whilst still having it look like next-to-nothing under the scrutiny of high-definition macro beauty photography.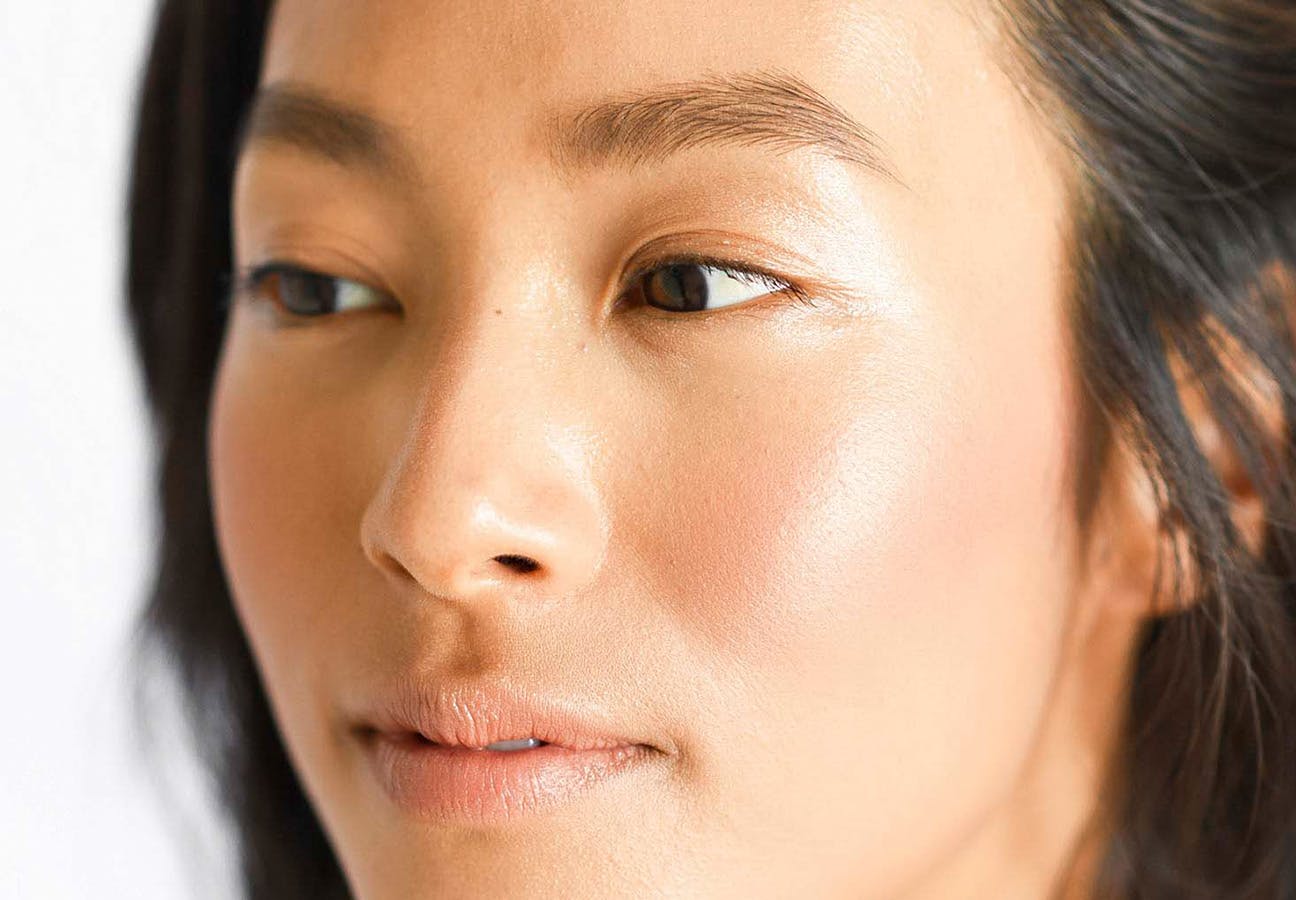 I've also had my own skin woes too, suffering from varying degrees of adult acne  throughout most of my 20s. Given that beautiful skin is my calling card, I always felt  obligated to put my best face forward on set, but as a male, I also never particularly  wanted to look like I was wearing any makeup myself. So I got very good at making  even the fullest of coverage look like not a lot. 
In this piece, I hope to demystify and simplify the process of determining the ideal  complexion routine for you, regardless of your skin needs and lifestyle. From finding  the perfect foundation or tinted moisturiser, how to build your base with concealer,  when to and when not-to powder, to injecting life back into your face through a  combination of blush, bronzer and contour.  
Colour-Matching Your Skintone 
Ostensibly, the most important part of finding your best complexion products is  properly colour-matching to your skins undertone. Even the most expensive or enhancing formulation can all be undone by applying the wrong shade.  
When inspecting a foundation, concealer or powder, look at yourself in the best possible natural daylight.
Artificial lighting inside department stores are too wildly  uneven — some are overly cold and drain warmth from your face with their bluish tinge, while others are too warm-toned and can make you look yellow and sickly.  Most offensively, some are even down lit — and nobody looks good under shadowy downlights!  
Ideally, go in store when purchasing a new complexion product for the first time. Most pro or luxury beauty brands will be staffed by an artist or advisor trained in that brand's product and will be able to best colour-match you (have them swatch two or three shades along your jawline then go out into daylight before committing to a shade).
When purchasing a drugstore brand, you will be unlikely to have any assistance, but again, sample multiple shades from the provided testers and then  inspect them in daylight — the shade that disappears into your bare skin is the best  bet for you. 
I advise matching your foundation to your chest colour, especially if you generally  wear garments where the upper part of your chest or décolletage would be visible.  Most people's faces are lighter than their body, and since you won't often apply  makeup to the body, it will look more natural to have the made-up face marry with  the unmade-up body.
Vice-versa, if you have a lot of pigmentation on your face from sun exposure, but little on your body from regularly being protected by  clothing, gently neutralise it and then subtly lighten up your face to match the  body's colouring (you can always warm it up later with bronzer). Just be sure to  blend the difference in the neck area. 
Also, be mindful that most people's complexion changes slightly (or dramatically)  with the seasons. While very fair people who generally burn in the sun and therefore  actively avoid it will unlikely change much between summer and winter, those who  do spend a lot of time outdoors will likely be very different shades at opposing ends  of the year.
In an ideal world, I recommend owning two shades of foundation — one that matches you at your absolute lightest and one for you at your darkest. 
Throughout the year, you can custom-blend your perfect shade for then-and-there,  which is how we makeup artists approach doing skin anyway — people are rarely ever one uniform colour all over and it makes for a much more three-dimensional  appearance.  
Finding The Formula And Finish For You 
For minimalists who favour a barely-there, 'no-makeup' makeup approach to  beauty, opt for super lightweight formulations. Think tinted moisturisers, enhanced with skin-nourishing ingredients, to super creamy, balmy sheer foundations.  
People with drier skin types, maturing skin, or those who just want a base that subtly  enhances their glow, try the Ere Perez Oat Milk Foundation, a buildable,  lightweight formula that provides a fresh, dewy finish that melts naturally into the skin.
Those who are more oil-prone or just desire a more natural-matte finish, but  with the same 'your-skin-but-better' sheerness, would suit the Ere Perez Quinoa Water Foundation, a lightweight, water-based liquid.
Despite their more limited  shade ranges, tints like these two are very forgiving due to their sheerness and  often suit many skin tones as they do not have enough pigments in them to fully  cover the skin, and therefore let your natural undertones shine through. 
For those seeking a little more coverage from their foundation, lines such as Nars  Light Reflecting Foundation, Giorgio Armani Luminous Silk Foundation and  Lancôme Teint Idole Ultra Wear Foundation all offer ascending levels of coverage  (in that order) and a global range of shades, while still looking natural and realistic  when well-blended. 
Personally, regardless of the condition of the skin I am working with and the amount  of coverage required to perfect it, I will always opt for a super-sheer foundation  (yes, even on problematic skin) and amp-up my coverage with selective concealing. 
The reasoning behind this logic is that by keeping the majority of the skin relatively  unmade-up, the naked eye is less likely to clock where makeup has been bulked up  and thus maintains the illusion of a fresh and minimalist base, or better-yet, the  illusion of just great skin to begin with!  
I favour liquid, wand-style concealers for working around the eye area — my  favourites are the Nars Radiant Creamy Concealer on drier to balanced skin types  or the Hourglass Vanish Concealer on oiler skins — due to their creamy, easily  blendable finish when working on such delicate skin.
For blemishes or heavy-duty  concealing, I prefer a firmer, and more-pigmented, cream formulation — Laura  Mercier Secret Camouflage ingeniously offers two complimentary tones per  palette to custom-mix for the most imperceptible coverage and boasts a sightly  drier consistency perfect for spot-concealing, while the Kevyn Aucoin Sensual Skin Enhancer is virtually unmatched in the coverage-levels achievable (seriously, use a  literal dot of product and blend before assessing if you need more). 
If you require a little extra help, a colour corrector may be the answer. Concealer  alone isn't enough to offset particularly dark under eye circles (often hereditary), or  if you are predisposed to hyperpigmentation around your mouth and jawline (also  genetic), something like the Ere Perez Lychee Crème Corrector can help.
The peachy-orange undertones in colour correctors help to neutralise the initial  discolouration, so that the subsequent concealer isn't trying to do two things at  once and can just conceal and bring everything back to a uniform tone. 
Making It Last  
It's my belief that powder really isn't for every one. Drier and dehydrated skin types  certainly don't need any subsequent product emphasising it, so instead opt for  something less drying like a setting spray (for example, MAC Cosmetics Fix +  Magic Radiance) to ensure longevity. Misting that sporadically throughout the day  will revitalise your makeup, make it look radiant again if it's beginning to look dull,  as well as rehydrate the skin.  
For anybody with an oiler skin-type, or a lifestyle/job that prevents them from being  able to regularly touch-up, a setting powder is essential. Powders lock your product  in place, create a diffused, skin-smoothing appearance, reduce oil and prevent  shine from re-emerging.
The Ere Perez Corn Setting Powder is fantastic as it has a  very soft yellow tint that helps reduce mild redness in fair skin and prevent ashiness  on deeper complexions that a true white powder cannot. Like all makeup, it's not a  magic wand, so if you are very oil-prone (as I certainly was in my 20s), you will still  need to reapply at times, but a good powder will really minimise the issue. 
Give Me Life 
The thing that pulls it all together and makes complexion work look less flat and  more lifelike again is an injection of colour back into the face. Your foundation,  concealer and powder have made everything look even (which was the goal), but  adding some dimension back into the face is so important to making it look like  'real skin' again. 
For me, a cream blush is always favourable (even on oily skin, you can always add a  light dusting of powder to tone the glow down, but cheeks are the one part of the  face where shine is almost universally flattering).
The Ere Perez Carrot Colour Pot and Flavedo And Albedo Dew Tint are two of my absolute favourites on the  market. Both coming in a beautifully curated selection of shades for every skin tone.  When choosing the most natural colour for yourself, opt for a colour close to your  natural lip pigment (or even your nipples, as some beauty experts have opined). 
These colours are already naturally occurring in your skin, so it stands to reason that  they will work best for you.  
If you like to amp-up the glow factor, of course, an illuminating balm will be your  best friend. Once again, I prefer a cream or liquid formula, as they more closely  mimic the skin's natural appearance than a powder can. I love the Ere Perez Vanilla Highlighters; the two shades are so buttery and glossy, they virtually melts into both  the fairest and deepest of skin tones. 
When adding warmth back into the face, It's All Fluff Bronzing Powder comes in  some of the best universal shades around, each imparting a subtle sunkissed glow.  Multitaskers as they are, they can also be built up as a contour, or for a  monochromatic eyeshadow to sculpt and frame the eyes too.