Live
A Feast For One
Cook, author and Youtimer Charlotte Ree reveals how she learned to love herself during a journey of discovery through cooking in solitude.
I spent most of my first year following the breakdown of my marriage cooking for other people. 
Cooking became a way for me to disappear.
I would hide myself in it as a way of attempting to prove to myself and to others that I was loveable - to make up for a long held self-perception that I alone was not enough, that I needed to serve and cook for others to be worthy of their love.
I would often spend all day in the kitchen preparing decadent meals, sometimes for people I barely knew or even liked.
I would cook for first dates. I hosted someone's wedding. I hosted and catered four 30th birthday parties. I cooked countless four course dinners.
I spent hundreds of hours and thousands of dollars and at the end of it all I still had absolutely no idea who I was, what I wanted or what I needed. I had learnt to live on crumbs.
The problem, I realised, is that people were beginning to like me so much more than I liked me, and so much more than I liked them. The frenetic energy with which I served and literally catered for, and to, others was actually hiding a deep distaste for myself.
As I moved into my new apartment in Potts Point, winter set in and I found myself in another lockdown. In living alone I could no longer hide myself, or my pain, in cooking for others.
You see, when all else fails (and I use the term failure with immense admiration, because I no longer fear it) all you've really got is yourself. 
I became determined to show compassion and kindness to myself, to allow each and every version of me (no matter how vulnerable or scared I felt) to shine through.
To slowly take the time to acknowledge and understand these raw layers of myself and find the courage to reveal them in the light.
And so for the first time in my life, I began to make extravagant, time intensive dishes that I never could have imagined cooking for one person… me. 
I spent entire days making tortellini in brodo, cheese souffle, prawn wonton noodle soup, potato gnocchi with a slow cooked 24-hour ragu, whole roasted snapper with leek and lemon and dill, Spanish tortilla, pesto with handmade pappardelle, steamed mussels in a tomato broth, hand rolled pici with sardines, laboured over perfecting Japanese broths for udon soups and baked countless focaccias with endless topping combinations.
There was something magical to be found in the simplicity of it all, too and I will forever find comfort in the beauty of butter dripping from freshly toasted sourdough soldiers into soft boiled eggs. Or two slices of miche topped with ham off the bone, thinly sliced tomato, tasty cheddar cheese and a big pinch of salt before it is placed under the grill. 
Each Single Lady Dinner - as I have come to call them - starts with the same playlist made entirely of 60's Love Songs and the filthiest martini I can make. As I begin to cook I am serenaded by the voices of Ella, Marvin and Aretha and my version of therapy begins.
It is all consuming. It has taught me more about life, and about myself, than cooking for others ever did. For instance, I now know that it is impossible to feel lonely when you bake a lasagne. From the moment the sauce ingredients are combined, your entire home is filled with its delicious promise.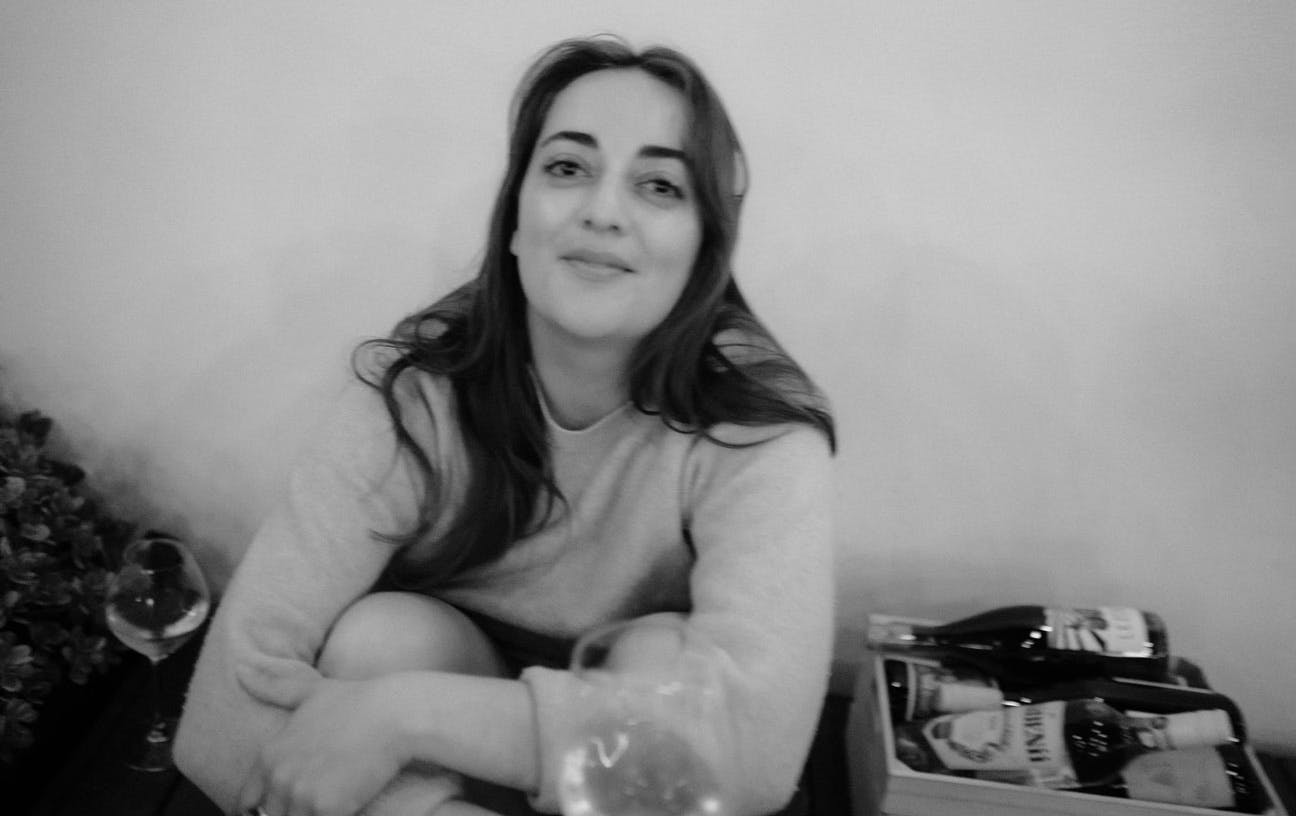 I know that anticipation is everything, so dreaming of a deliciously creamy French brie and then asking my Cheesemonger, Penny, for her favourite recommendation that week only makes the first bite even creamier, even more delightful than I ever thought possible.
I know that challenging myself to learn a new recipe, or to learn a new skill or cook with a new ingredient is one of life's simplest pleasures. I know that there is no greater form of meditation than rolling out pasta. I know that there is nothing more satisfying than baking a fluffy cloudlike chiffon cake. It has also taught me that I should never have more than two filthy martinis.
As the weeks went by, and my depth of understanding and appreciation of myself grew, I began sharing each Single Lady Dinner on my Instagram. It was a way to connect, a way to document and a way to hold myself accountable too. It was also my way of turning being single into solitude. To turn an isolated experience into a shared one. 
I wanted people to know that they weren't alone. I wanted to show them that through all the grief there was so much growth to be had. I needed to tell people, but mostly tell myself, that at its core, nurturing and finally feeding myself has all been part of me accepting a few too long ignored truths.
Things that I had so easily forgotten but sorely missed. That I can give myself exactly what I need. That I am worthy of my own love and care (and cooking). That I don't need to go to great lengths or cook extravagant meals for others to earn their love. That I am, simply, enough. That they, too, are enough.
'Charlotte you have inspired me to cook up a single ladies special dinner tonight just for solo me in lockdown. Thanks for the reminder to treat and care for myself!'
'Thank you so much for sharing, there's a lot of us who need to hear this.'
'Food is the ingredient that binds us all together.'
'Resonating so much with my own story and journey of grief, love of self and cooking.'
'Finding those pieces of ourselves and loving them is such a sweet freedom. And using cooking to heal and love yourself up. Magic.'
'it takes most of us years to realise we have to look after ourselves first.'
The responses came in thick and fast. They made me laugh out loud and they even brought me to tears. They told me a story I already knew but hadn't yet known how to articulate. Of losing love but finding yourself. Of discovering the healing power of food.
I realised I had spent so long feeding and nourishing others that I forgot it was safe for me to swallow. It was now time to be in the moment, to soak it all in, to allow myself to swallow the pleasure amongst all of the pain.
And in doing so, I stumbled upon the greatest gift of all in falling in love with a truly exceptional man. A man that makes me feel so seen and so heard. A man that cooks for me. A man that makes me feel a depth of happiness that I haven't felt before, and never thought I would feel. I think the difference is though, my happiness isn't dependent upon him, but enhanced by being with him. 
I found myself initially questioning if I was falling in love with him or falling in love with the person I became when I was with him. Someone comfortable in her own skin, someone proud of who she is and what she has overcome. Someone who has grown and is continuing to grow. Someone who has gone to the core of it all to find a form of peace and understanding. Someone who has finally found happiness, found meaning and found heart bursting joy filled love.
Because in finally being able to fully recognise myself, in liking myself, I have also learnt to love myself.
I am no longer living off crumbs, contorting myself to please someone else or dismissing my own needs to serve others. I am, for the first time in my life, completely satiated and content in ways I never thought possible.
I am still doing my Single Lady Dinners... but this time it isn't to prove anything to anyone. This time it is to nourish. To nurture. To look within, to check in, to say 'hey, it's okay to feel scared and feel okay.' It's my time.
Charlotte Ree
Barramundi For One
This is one of those simple dinners that you can prepare in less than five minutes and forget about. It's no mess, no fuss and can be easily adapted to make for one solo lady dinner or a dinner party for the masses. A bed of greens cradles the barramundi fillet and once baked I serve it with sushi rice which captures its soy, mirin and sesame sauce.
The parcels themselves are a cinch to make and I wrap each fillet individually to make serving easier at the end. I tear a 50cm sheet of aluminium foil and then place a 30cm sheet of baking paper on top of it. From here I layer my bed of greens, my fish fillet and my seasonings on top, then wrap it into a leak proof parcel folding the baking paper first and then the foil around it.
FOR ONE PORTION
+ 15ml mirin
+ 15ml soy sauce
+ ½ tsp brown sugar
+ Sesame oil, for flavour
+ 1 cup of Asian greens - I prefer bok choy and snow peas
+ 200g fresh barramundi fillet, with skin on
+ 1 garlic clove, minced
+ 2cm piece of ginger, minced
+ Coriander and shallots, to garnish
+ Salt and pepper, for seasoning
+ 1 cup of cooked rice, to serve
First things first prepare your parcel by layering your aluminium foil and baking paper, as above. Then I make my sauce by mixing mirin, soy sauce, brown sugar and a few drops of sesame oil (not too much, as it can be overpowering) till the sugar is dissolved. I roughly chop a handful of greens, usually what is in my fridge, but more often than not bok choy and snow peas, and place them on the baking paper. 
Mix 30ml light soy sauce with 30ml mirin, 1 tsp brown sugar and a drizzle of sesame oil. Put greens in baking paper, lined with aluminium foil, place pieces of barramundi on top. Pour over sauce. Add garlic, shallot, ginger and coriander. Bake at 200 degrees for 30 minutes.
To serve, empty the contents of each parcel into a bowl filled with one cup of cooked rice. 
Charlotte Ree
Lemon Olive Oil Cake
Lemon Olive Oil Cake
More and more it seems that a lot of my friends are becoming gluten or dairy intolerant. Thankfully this recipe comes to the rescue when celebrating something with them. Bake this and you will experience the kind of moistness you can only get from baking with olive oil in a cake. 
+ 150 g hazelnut meal
+ 1/2 teaspoon bicarb soda
+ zest of 1 lemon, plus extra to serve
+ pinch of sea salt
+ 150 ml extra virgin olive oil
+ 200 g caster sugar, plus 2 tablespoons for lemon strips
+ 3 large free-range eggs, at room temperature
+ 2 teaspoons vanilla extract
+ crème fraiche, to serve
+ sifted icing sugar for dusting
+ additional lemon, optional, for decorating
Preheat the oven to 170 °C. Grease a 20-cm springform tin with olive oil and line the base with baking paper.
In a small bowl, combine the hazelnut meal, bicarb soda, lemon zest and sea salt.
Place the olive oil, sugar and eggs in a large bowl and beat with an electric hand blender on high speed for 3 minutes or until the mixture is pale and resembles thickened cream.
Reduce the speed to medium–low and add the vanilla, beating continuously. Once combined, add the hazelnut mixture and stir gently with a spatula.
Pour the batter into the prepared tin and bake for 40–45 minutes or until the sides are set but the centre still looks slightly damp.
Cool in the tin for 10 minutes on a wire rack, then remove the cake from the tin and set aside to cool.
To serve, dust with icing sugar and sprinkle with a little extra lemon zest. You can finely grate the zest or, with a second lemon, use a vegetable peeler to peel long, thick strips from the lemon. Thinly slice the strips, place them in 2 tablespoons of caster sugar and rub in with your fingertips until combined. Place on top of the cake and serve with crème fraiche.
Store leftovers in an airtight container at room temperature for up to 2–3 days.