Express
Men in Makeup Who Broke Boundaries (and Blew My Teenage Mind)
From David Bowie and Steve Strange to Patrick Wolf, a make up artist's ode to some of the individualists, anarchists, and rule-breakers celebrated for adorning their faces as art and self expression.
Born in the mid-80s,


and coming of age at the turn of the century, the presence of notable male public figures overtly wearing makeup as I was growing up wasn't as prevalent as it is today.
These days, between beauty influencer culture, K-pop boy bands, the plethora of queens who have broken into mainstream consciousness courtesy of "RuPaul's Drag Race", as well as just evolved attitudes towards our definition of manhood, the concept of men wearing makeup is almost a non-event in the minds of most now.
But just a mere 20 years ago, as a teen, seeing men who proudly adorned their faces with makeup being celebrated for their art and self expression was mind-blowing.  
Of course, the history of men wearing makeup is storied and features notably in ancient Egypt, Japan, as well as both Elizabethan and Victorian era England.
But around that time in the late 1800s, overt application of makeup fell out of favour for all genders.
And by the 20th century, while makeup trends and styles returned for women in numerous iterations throughout the ensuing decades, the ideals of masculinity were now deeply regimented and the pervading culture looked down upon any deviation from heteronormativity.  
Growing up at a time before every piece of information you could ever need was just readily available at your fingertips (and with parents who had more David Cassidy than David Bowie vinyls), I had to seek out and educate myself about the art and culture that came before my time; haunting old record shops, video stores, arthouse cinemas and art galleries in my spare time to find the media I wanted to  see.
It was here that I found so many of the formative artists who shaped my view of the world.  
EXPRESS
Rob Povey
"This is my ode to some of the individualists, anarchists, and rule-breakers who blew my teenage mind and showed me the potential of makeup as a medium - not just for beautification, but as a tool to tell stories, convey ideas and express your art."
David Bowie
Obviously, David Bowie is king!
It would be criminal not to start a list like this without him — the man literally defined androgyny for an entire generation (and  those thereafter).
While the "Aladdin Sane" cover art may have spawned arguably his most iconic image, my favourite Bowie makeup moment is his Ziggy Stardust era.
Inspired by traditional kabuki theatre makeup, the skin was paled down to a snow-white tan as Bowie referred to it, and brows shaved off entirely to give his already angular face an even more alien appearance.
Cheeks and eyes sculpted in a warm rust-red hue and the look completed with his signature gold astral sphere on his forehead, as designed by makeup artist Pierre La Roche. 
Achieve Bowie's warm flush of red blush by draping Ere Perez Carrot Colour Pot along your cheekbones and jawline and across the eyes, then accent it with a pop of metallic gold using the Flavedo & Albedo High Glow in Champagne directly in the centre of your forehead, as well as any other high planes of the face. 
Divine
Stumbling across a well-worn VHS copy of John Water's cult classic "Pink Flamingos" in my local video store as a 13-year-old changed my life.

It was the first truly independent and punk piece of queer cinema I'd ever seen.
In fact, save for seeing snippets of "Priscilla Queen Of The Desert" in the background as a child  while my parents watched it, it was probably the first time I ever consciously saw the art of drag being performed.  
Klaus Nomi
Born in Germany and relocating to New York in his 20s, musician and performance artist Klaus Nomi emerged from the late 1970s East Village art scene.

Known for his otherworldly stage presence, theatrical performances, countertenor vocal range, and heavily stylised and avant-garde costuming, hair and makeup - Nomi's music mixed genres from opera arias to pop covers to new wave.
Steve Strange
Starting out as a nightclub host and promoter, Steve Strange soon found fame as the frontman of synthpop band Visage, synonymous with pioneering the New Romantic fashion movement that was born in early 1980s London.


Though experimental with his makeup style until his death in 2015, Strange's most iconic beauty moment for me will always be the painterly illustrations that adorn his face on both the "Fade To Grey" cover art and in the music video. 
Robert Smith


Standing in stark contrast to these meticulous makeup applications is goth king, Robert Smith.
Frontman of The Cure, Smith's signature style was the antithesis of makeup for beautification — pairing an all-black ensemble (relatable!) against a wiry birds nest of dishevelled hair, paled-down skin, heavy black eyes, and a smeared slick of vivid red lipstick.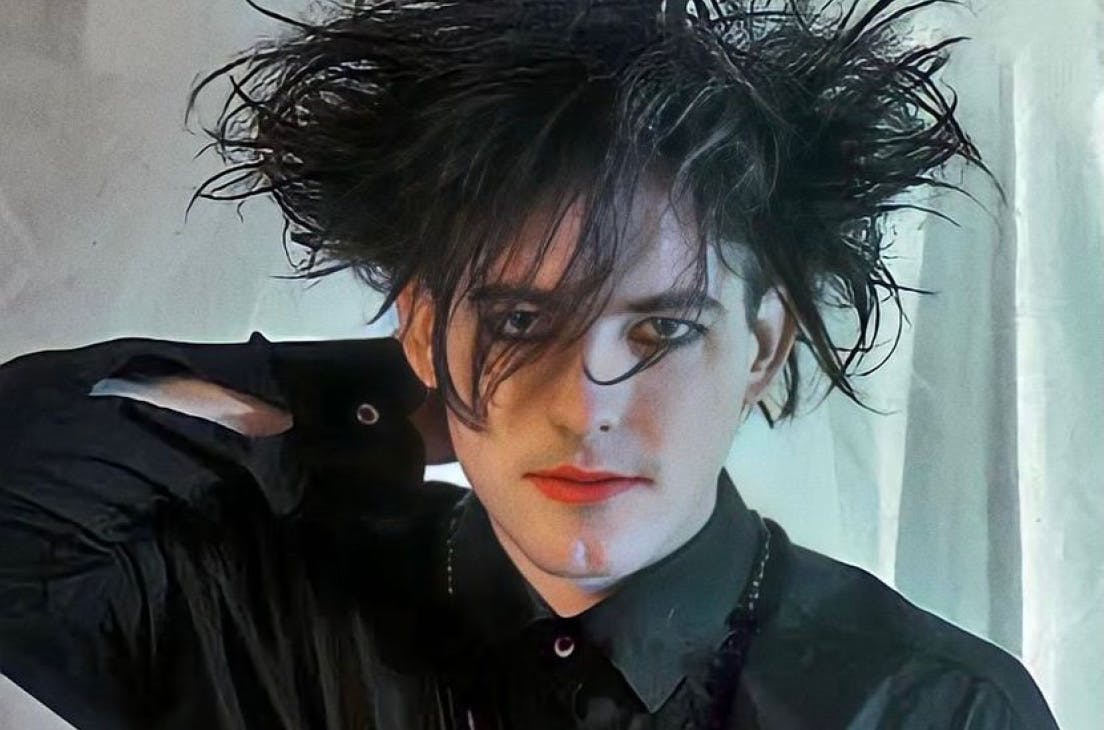 Express
To achieve the look, apply Ere Perez Coco Crayon in Heart to the lips, before using the back of your hand to artfully smear the product and create a more lived-in feel, à la Smith. 
Leigh Bowery
Hailing from Melbourne, but based in London for the majority of his career, Leigh Bowery was an influential figure in the underground club scene of the 1980s, as well  as a performance artist and fashion designer known for his flamboyant appearance and provocative performances.


He was also a muse to noted artist Lucian Freud, posing for a series of paintings that are considered seminal to Freud's career, and his club of the same name inspired the long-running West End / Broadway musical, "Taboo".
Imagine
Let your imagination run wild, and create an endless assortment of colourful creations like Leigh using the multi-purpose Make Up For Ever 12 Flash Colour Case.
These ultra-pigmented creams can be used on the face, eyes, lips, and mixed  using colour theory to create whatever tone tickles your fancy.  
The Club Kids
Immortalised in infamy by the 1998 documentary and 2003 cult classic film, both entitled "Party Monster", the Club Kids were a New York club scene institution from the late 1980s to mid 1990s.
Though the title was originally attributed mainly to club promoters Michael Alig, James St James and their inner circle, the group grew to include such icons as nightlife fixtures Amanda Lepore and Susanne Bartsch, stylist Patricia Field, drag queens RuPaul and Lady Bunny, and designers Zaldy and Richie Rich of Heatherette. 
Billie Joe Armstrong  
Green Day's third major-label album "Nimrod" came out in 1997 on my 11th  birthday, when I was already a very angsty teen-in-the-making.
I quickly absorbed the band's existing oeuvre of previous albums, and to say that frontman Billie Joe  Armstrong inspired me over the following 3 years to bleach and colour my hair every shade of neon green, blue, pink, orange and yellow would be an understatement.  
Flavedo & Albedo
Bright Strip Eyeliner
Brian Molko
Placebo frontman Brian Molko was synonymous with late 90s androgyny.
Raised in a conservative home, Molko rebelled against his family's expectations from an early age, regularly wearing nail polish, eyeshadow, lipstick and dresses, which continued  through to his visual identity as the lead singer of one of the biggest alternative acts of the era. 
Paint
Paint your nails the perfect glossy black with OPI Nail Lacquer in Black Onyx, then allow the paint to slowly chip away over the coming days for a quintessentially 90s manicure. 
Patrick Wolf
Patrick Wolf's first two albums released just around the time I finished high school and was about to enter my 20s.
Fusing electronic pop samples with classical  instruments and baroque chamber music, Wolf's stage persona was equally as  curious and off-kilter.
His tall, lanky frame dressed in short shorts paired with skimpy  singlets and vests often adorned in feathers and jewels, shock of red hair messily strewn atop his head, and his pale skin accented with swatches of paint and glitter across his cheeks and temples.  
In this article