Explore
Worth Their Time: Rebecca Burrow
Model and mother Rebecca Burrow shares the tools and rituals that elevate her every day: From morning matcha and medicinal mushrooms, to daily swims and sunset wines.
In the latest of our series Worth Their Time, we speak to model and mother of two Rebecca Burrow.
The Founder of childrenswear label Mini Marley lives by the ocean with her family, cherishes time outdoors in nature with her husband, surfer Taj, and their two daughters.
Rebecca recently swapped her morning coffee for matcha, and fuels her body with good food alongside an impressive collection of medicinal mushrooms, while her skincare routine is speedy (parent life!).
Read on to learn the tools and rituals that help Rebecca elevate her everyday.
What is the first thing you reach for in the morning?
My two and a half year old daughter comes in for a morning snuggle first thing every morning.
Is your skincare routine a multi-step ritual, or do you aim for speed and efficiency?
In a dream world I would love to have an advanced multi-step ritual with a pre-iced gua sha, but the reality of being a busy working mum unfortunately does not allow this.
Sometimes when I really need to take some time I like to do this as a form of self care, but daily I only have a short amount of time so a speedy and efficient skin care routine is what I go for.
In saying that, I have found that for my skin, doing less has actually been beneficial and it seems to be responding well to giving it some time to breathe.
SPF - every day or only at the beach?
I don't use it every single day, but I do use it most days. I like to give my skin a break every so often without SPF to have a little breather, but other forms of sun protection will be used on these days.
Mother SPF is my go to. I have found that they are the cleanest form of SPF that I have found but still being effective protection.
I also love We are Feel Good Inc sunscreens and I use these on myself and my family, they smell delicious!
What is the non-negotiable, must-do every day for you? 
Fuelling my body with good food is a non negotiable. If I eat bad foods I feel it for a while. Everything else in my life is quite fluid as life changes for us day to day.
Time with family and spending time with our girls is a must, getting out into nature with them is something we do daily and is a ritual for us as a family.
I do like to move my body, but some days exercise does not get a time slot, and I think it's important to rest and being a mum you are always low-key on the move so it is a form of exercise in itself. 
I quit coffee almost a year ago and now opt for either a matcha latte or a ceremonial cacao in the morning. I feel so much better for doing so as I realised that coffee was messing with my adrenals.
I also add medicinal mushrooms by Life Cykle to my morning drink - Lion's Mane for brain function, Turkey Tail for an immune booster, Chaga for detoxing EMF's and Cordyceps for optimising liver function. I feel the benefits almost instantly!
What are your favourite inner health products?
I love the Life Cykle mushrooms as mentioned above. I also take lipsomal vitamin C, probiotics and the Advanced Skin + Gut Health Collagen Elixir from Habitual Beauty. I do believe that a balanced diet is the best way along with these supplements to get peak performance for your body.
What's in your ears right now?
Music. Anything and everything. I usually have to listen to kids songs, but I recently went away on the most incredibly fun trip for my girlfriend's bachelorette and I have had a house music playlist on ever since to take me back to the good times. Tune - feel my needs by Weiss and Purple Disco Machine, 6's to 9's by Big Wild and Rationale and California Dreamin' by Chris Lorenzo and High Jinx.
What is your meditative practice?
Being by the ocean, walking, pilates, listening to music and ice baths are all my different forms of meditation. As a mother it is so important to find some time to tune out and get back to yourself and the above are ways I do so.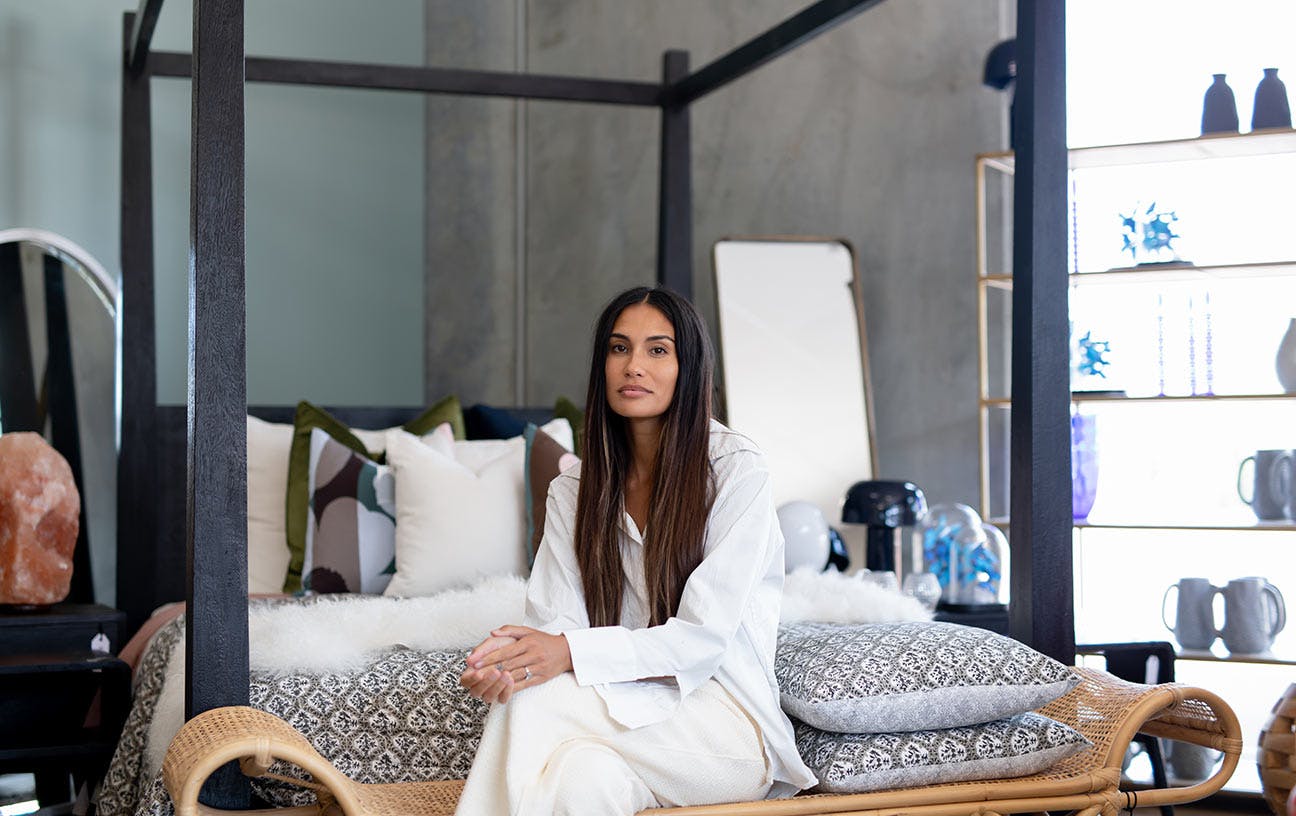 What does pure pleasure look like for you?
Pleasure looks like acts of kindness to those around me. I really love time with my loved ones and letting them know that I love them by showering them in love and my time.
Also, the way to my heart is through my tummy. I absolutely love food. I am lucky enough to live in a wine region so we are surrounded by great five star food, world renowned chefs and great wine.
Pure pleasure is seeing the people I love being happy.
How do you wind down at the end of the day? 
The ideal wind down would be putting the kids to bed, taking time to do my skincare routine, putting on a silk nightie, laying on our day bed under the stars and then sex before we roll over and I go to sleep on my silk pillowcase. How dreamy.
What did your screentime report from last week say?
3 hours 16 min daily average (eeek)
What would your desert island items be?
+ A speaker to play music
+ A margarita making kit (do multiple items of a margarita count)
+ A big foam surfboard
You have a whole day just for you. How are you spending it?
Sleep in, then a morning cuddle. It is a balmy summer's morning with a warm breeze (obviously) and I would either go for a walk on the beach or to a reformer pilates class, followed by a swim at the beach with my family.
Coming home to a shower where I get enough time to wash and put a treatment in my hair and then a little nap for everyone.
Followed by a late winery lunch, and home for a glass of wine and great playlist as we watch the sunset. Night time routine and in bed by 8pm; I love going to bed early.
In this article