Explore
Worth Their Time: Jasmine Dowling
Australian creative Jasmine Dowling shares the tools and rituals that elevate her every day: from her morning non-negotiable, to her favourite meditative practice and nighttime skincare ritual.
In the latest of our series Worth Their Time, we speak to creative Jasmine Dowling.
The Australian visual storyteller, known for her illustration, design and photographer work, makes a ritual of her nighttime skincare routine and takes a shower to reset her day.
Read about the daily routines and tools that help Jasmine elevate her everyday.
What is the first thing you reach for in the morning?
I wish I had a different answer but it's definitely my phone.
I am someone who needs to turn off my alarm as soon as possible which normally leads to that instinctive scroll.
Second is coffee. 
Is your skincare routine a multi-step ritual, or do you aim for speed and efficiency?
Speed and efficiency most days, it makes those nights when I make a ritual out of it that much more special.
Morning routine always starts with cleansing, I like something with a little bit of texture to it so the Milkfoliant by Dermalogica has been my go-to at the moment.
Then into my serums with a Vitamin B, Vitamin C and a hydrating serum (I have been loving the Habitual Beauty one) to mainly address pigmentation, brightness and texture.
In the warmer months I go straight into my SPF.
The Ultra Violette Supreme Screen is really hydrating that often in warmer months I don't feel like I need to layer a moisturiser underneath. 
For my nighttime I am repeating the cleanse, sometimes doing a double cleanse with a balm or oil cleanser depending on how much product I have on my skin that day.
My eye cream and lip balm from Imbibe is an every night occurrence.
Every second night I like to use my Retinol and Glycolic Acid combo in the Sunday Riley Sleeping Night Oil & Good Genes.
On lazier nights I will apply just my Vitamin B though and then go in with a mask or heavier treatment like the Habitual Beauty Hydrating Mask or Kit Melatonin Night Balm.  
Now that I am answering this, maybe I am more a multi-step ritual type of girl!
SPF - every day or only at the beach?
SPF is my only non-negotiable when it comes to my skincare, on my laziest of skincare days I will still have it on. One SPF I am always re-purchasing is the Supreme Screen from Ultra Violette, it is hydrating while not feeling heavy or sticky on the skin. 
What are your favourite inner health products?
I like to use a collagen, my personal go to is one from Imbibe as it can be added into whatever I am drinking (usually coffee) and doesn't add any extra flavour or texture.
What is the non-negotiable must-do every day for you? 
My morning coffee before anything else.
Even if my first thing on that day is going out for coffee, I still need a coffee at home first.
What's in your ears right now? 
I am currently listening to the panel discussions put out by ShowStudio on YouTube.
They do post-show discussions during fashion week on particular shows and I find it really interesting to hear different points of view on not only the clothes but the direction of the brands and the creatives behind them.
What does pure pleasure look like for you?
Pure pleasure is a late, long lunch. Usually Italian or Greek food with good company and nowhere else to be. Bonus points if it can be by the ocean.
What is your meditative practice? 
For me a shower always feels meditative - I often will take a quick shower in the middle of the day if I feel like a need a reset but don't have the time to take a long walk.
How do you wind down at the end of the day? 
Since I work from home, I love the afternoons that I can finish at 5pm and do a little routine that feels like I am switching off from work and moving into 'home time'.
So that is usually doing some at home pilates, then showering and making dinner while listening to music or a podcast.
Before I fall asleep I can get carried away with thinking about work so I like to distract myself in that last hour whether that's with watching a show, reading or even better my partner reading to me.
What did your screentime report from last week say?
I recently cracked the 6hr mark but let's blame the increase on the additional social media apps needed for work. I am looking at you tiktok.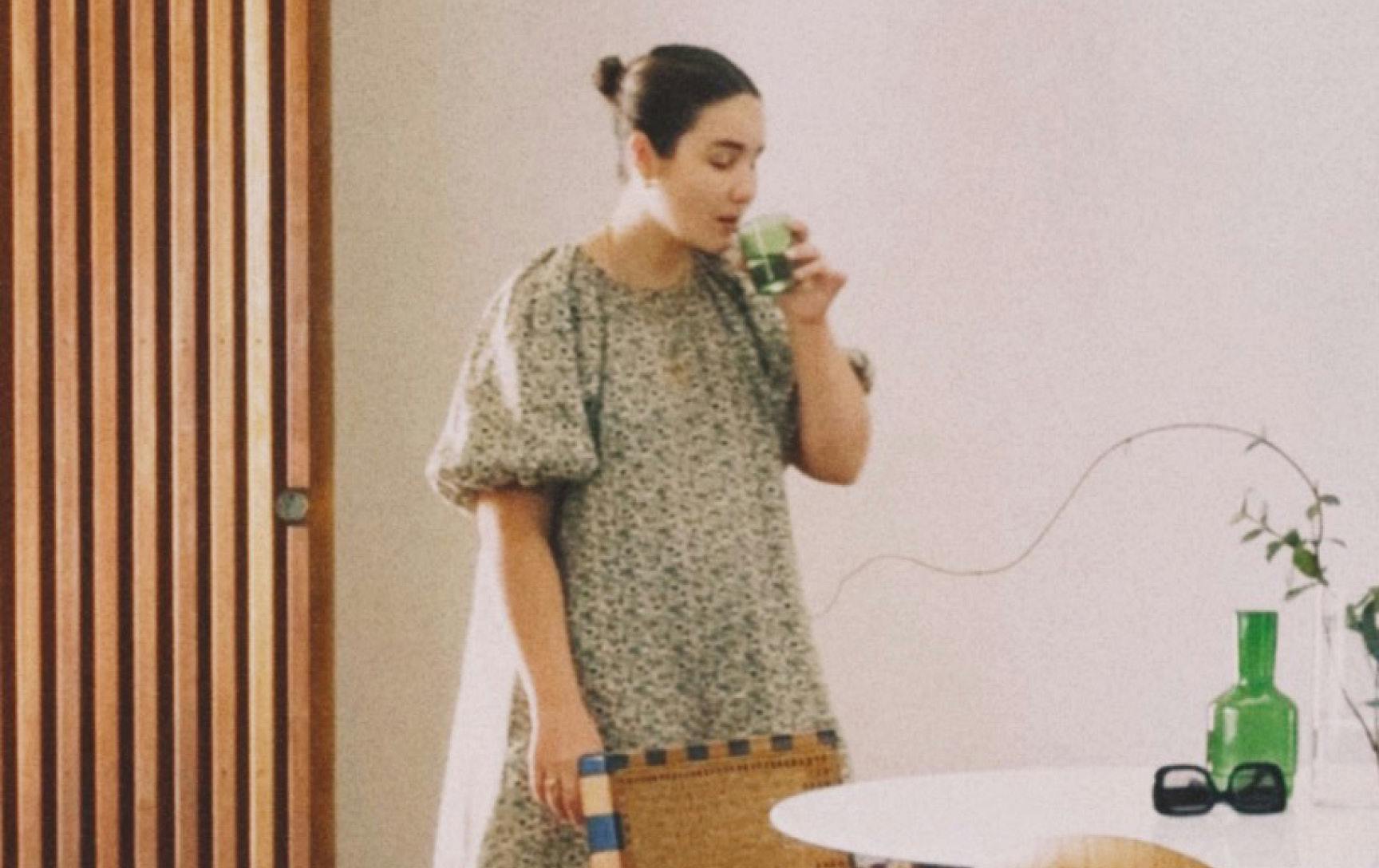 What would your desert island items be?
+ Seeds for my favourite flowers. I feel like I might have a better chance of keeping them alive while I am on the island because they'd have my full attention?
+ Polaroid camera so that I could take and see the images.
+ Lastly, would have to be something to play music on so an iPod with all of my favourite music downloaded on prior to my island mishap.
You have a whole day just for you. How are you spending it?
Waking up around 8-9 am (so a little sleep in) then enjoying breakfast in bed with coffee. Then going to a gallery and book stores before stopping for a long, late lunch.
Then coming home for a wine and listening to music, burning an incense while cooking myself something for dinner to have on the deck.  
In this article