Explore
This Dinner Party Game Will End Small Talk For Good
How well do you really know your people? Rachael Akhidenor is the Founder of the brand on a mission to redefine self care. With her psychologist backed Big Talk card game, Self Care Originals are encouraging us to form intimate connections with our friends, family and partners.
What do you think of when you hear the word 'wellness'?
At youtime, we hope to explore what it means to feel well, however that looks to you - without exclusion or judgement.
Because too often, the wellness industry caters to a particular type of person. Rachael Akhidenor became frustrated with the 'perfectionist' view of wellbeing she observed within the industry, as well as the focus on physical wellbeing above anything else.
While at university in 2018 Rachael launched Self Care Originals to promote the concept of self care for all to her peers, encouraging them to focus on their mental and spiritual wellbeing alongside their physical.
In 2020 the brand evolved to include her 'wearable activism' slogan t-shirts emblazoned with 'self care' in response to the "whitewashed and privileged world of wellness" that she felt dominated the conversation around self care.
After a brief hiatus, Rachael has relaunched Self Care Originals in an effort to challenge the toxic positivity of the wellness industry at large, while focusing on self exploration. "Too often, I hear that people want to look inward, but don't know where to start; that therapy is inaccessible to them due to the price point; that they don't have the time to 'live well'," Rachael told youtime.
Here, we discuss the steps and learnings that led to Self Care Originals' new offering: the Big Talk Card Game, alongside Only Human Prompt Cards and the Self Care Journal.
What does 'being well' mean to you?
Being well to me means feeling grounded, being connected (to myself and others) and living in the fullest expression of myself.
What prompted you to enter the wellness industry?
I was drawn to enter the industry because I had benefited so deeply from taking a holistic approach to my health and wellbeing and I felt called to share that with others. It was 2018, and self-care as a concept was not a common phenomenon. This was especially the case amongst my peer group (young early twenty-somethings who lived in cities).
Over time, as the wellness industry grew, I stayed in the industry because I felt the pull to change what I was seeing inside.
The industry had boomed but it felt homogenised. It spoke to only one kind of person and proliferated a perfectionistic view of wellbeing. I wanted to offer an alternative; to make it more representative, accessible, and welcoming.
What was lacking in the industry, for you, that you sought to solve?

It's changed over time. At the beginning, the industry focused heavily on physical health. There was little conversation about the broader aspects of wellbeing, which is why I resonated so deeply with the term 'self-care' (to care for one's whole self – mind, body, soul).
Then, as the industry evolved, it heavily appealed to a specific kind of person. As a woman of mixed race, who was young, ambitious and living in a city, I didn't resonate with the perfectionistic, white-washed image of self-care and wellness I was being sold.
I wanted to make self-care something that everyone felt they could practice and draw benefit from, regardless of their race, gender, sexuality, or socioeconomic status.
While the industry continues to grow, I believe it still lacks offerings created to support the self-exploration and self-care that I know our community craves.
Too often, I hear that people want to look inward, but don't know where to start; that therapy is inaccessible to them due to the price point; that they don't have the time to 'live well'.
It's why I'm so passionate about our Self Care Tools; products that have been intentionally created with this in mind. 
Tell me about Big Talk - where did the idea come from, and what inspired you to work with a psychologist on it?
Big Talk is a card game from our suite of Self Care Tools. These are tools for the mind created with psychologists and grounded in science. They aim to bridge the gap between psychology and self-care; using psychological frameworks and constructs to help us deepen our relationship with, and care for, ourselves.
I was always really interested in how other people impacted our wellbeing. Self-care is often very singularly focused.
I knew I wanted to create a product that spoke to our need for connection and intimacy. Big Talk exists on the premise that we can learn much about ourselves through others, and that connection and vulnerability are essential to our practice of self-care.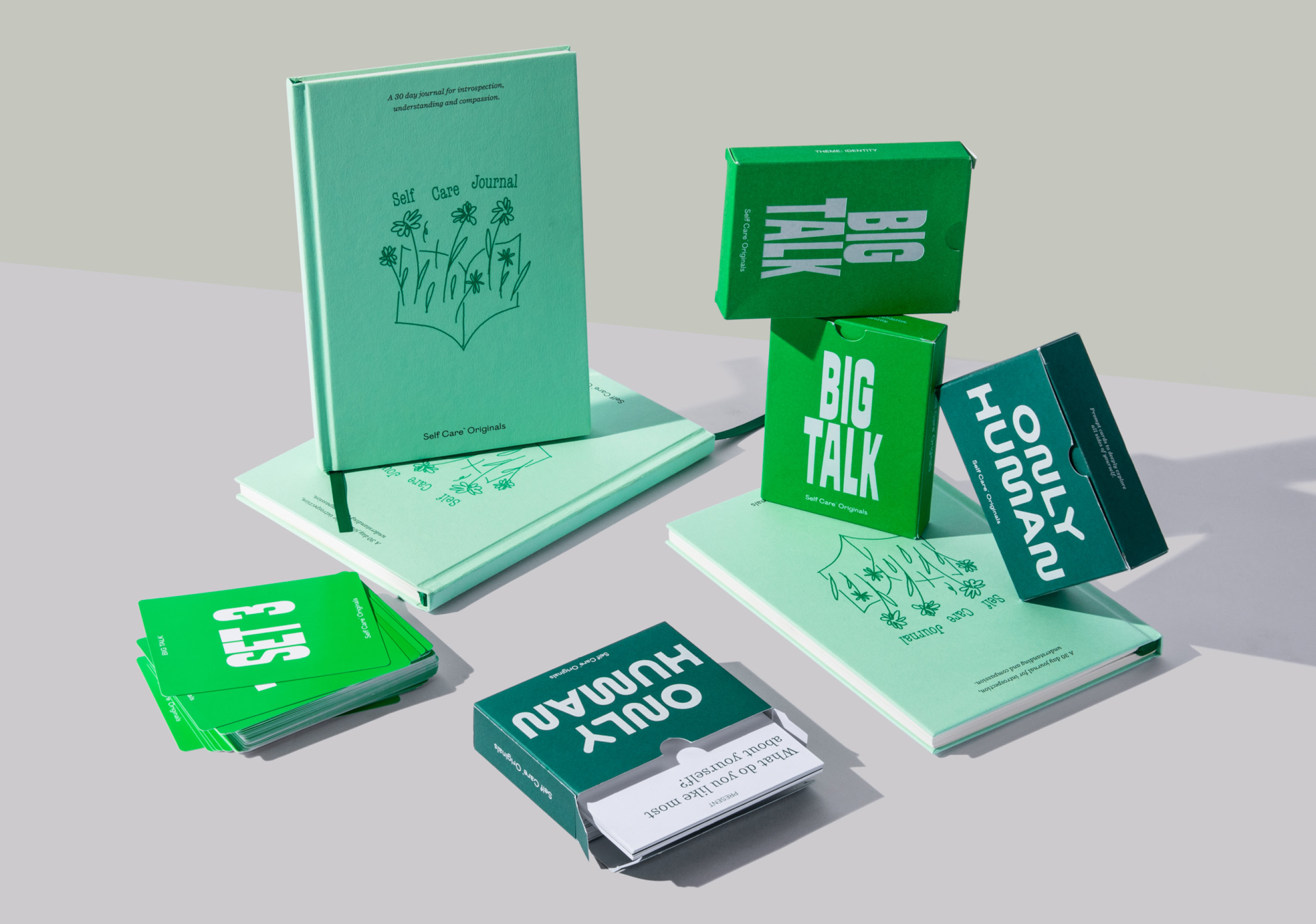 We worked on Big Talk (and all our Self Care Tools) with The Mind Room, a psychological practice here in Melbourne. We were inspired by the 1997 research paper, 'The Experimental Generation of Interpersonal Closeness: A Procedure and Some Preliminary Findings' (more commonly known as '36 Questions to Fall in Love').
Using the findings from that study, we created the structure and form of the Big Talk, a card game that allows us to intimately connect with the people in our lives.
Has the Big Talk game changed the conversations you have with your friends/family? How?
I think I used to underestimate just how much the timing, space, and overall energetic intention changes a conversation. I used to have conversations that felt great and bonding at the time but left me feeling, perhaps, overly exposed.
I think in today's culture, there is such focus on deep sharing but we're not often taught how to have these conversations in a safe and healthy way. (The word 'trauma-bonding' has made it into the common vernacular for a reason).
Big Talk taught me how to have deep and intimate conversations without feeling that emotional uneasiness and overt exposure that sometimes hung around post-conversation.
The game is intentionally structured into 3 sets. Each set slowly increases in vulnerability and intensity, which the science says is ample for building genuine intimacy, trust, and connection with others.
What 3 questions do you think will really get to the heart and soul of someone you are forming a relationship of any kind with?
Based on what the science says about building intimacy slowly, my favourite three questions build in intensity. (I'd definitely recommend asking them in this order):
+      What's your most defining quality?
+      Do you think the way you're perceived matches your idea of your identity?
+ What's something you would change about your childhood?
For people who have more of a 'closed book' personality, does this game help to break down walls, or is there a more gentle approach?
Because of what the science says about slowly building intimacy and connection, we specifically created Big Talk to ease us into deep conversation.
By beginning with Set I, these more 'light-hearted' questions have been intentionally created to build trust and rapport between those in the game, which hopefully helps those who are more of a 'closed book' feel comfortable to share.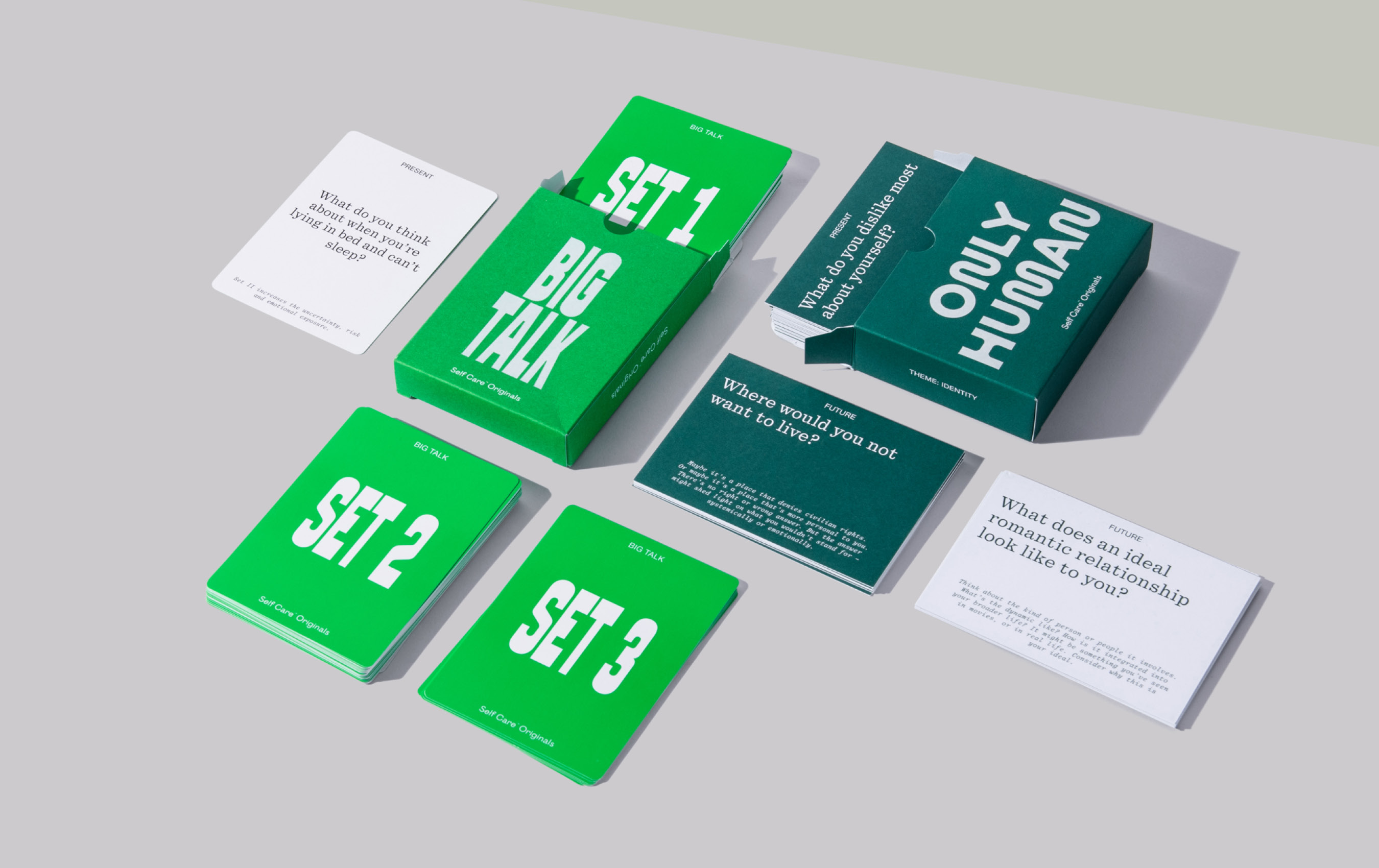 The literature also states that reciprocal self-disclosure helps build trust, which is why Big Talk encourages each participant to share their response to each question. With everyone disclosing their thoughts and feelings, an intentional safe space is created.
And if even that's too much, I'd invite those who aren't too comfortable sharing, to stay on Set I until that feels good. Continue on to Set II and Set III as you feel ready.
What is your preferred 'youtime', or self care?
Hard question because I have so many favourite practices. But if I had to narrow it down, yoga and meditation are two constants in my life; I don't know where I'd be without them.
In this article