Nourish
The 3-Step Routine That Will Get Him into Skincare
Does the guy in your life need a little nudge in the self care direction? Introducing the gender inclusive brand that appeals to everyone, and is as effective as it is understated. Prepare to start sharing a cleanser.
In my house, there are some vastly different skincare regimes abound.
My morning skincare regime goes something like: cleanse, chilled rose quartz roller, serums, moisturiser, sunscreen. And evening? Oil cleanse, gel cleanse, LED Mask, retinol, moisturiser.
My husband's routine is as follows: ...
[—crickets]
The man just turned 39 and honestly, he's looking irritatingly well preserved, considering the money and time I invest in pure maintenance, while he merrily splashes some water about in the shower and faces the day. It's unjust and I object.
My spouse is one of those male identifying types who does actually embrace self care for his inner and outer self. Yet, skincare remains that little bit beyond him. Too confusing, too many steps.
At some point though the lack of daily SPF application is going to catch up with his complexion, and look— those pores wouldn't hate to see a little gentle exfoliation now and then.
Traditionally, skincare has been dominated by feminine-focused brands appealing solely to women's skin concerns, while the few "male" brands on the market were supermarket brands with cheap ingredients and names like "max power" or "rough and tough".
Congratulations, very macho, but will they nourish and protect his skin?
Youtimer Rob Povey recently penned a comprehensive guide to male grooming, starting with a beginner's introduction, building up to a more complex regime. Rob recommended Hunter Lab products as the perfect gateway into a skincare routine he can stick to.
Hunter Lab is one of those unicorn brands that is designed to be used by all genders, aesthetically appeals to everyone, and actually works.
Sleek, elevated and far from intimidating in their unisex style packaging, Hunter Lab is as effective as it is understated.
1
Hunter Lab
Charcoal Cleansing Stick 50g
This multi-award winning cleansing balm rethinks a traditional cleanser. A deep cleanse with a fresh peppermint aroma to awaken your senses as you practice your morning skincare ritual.
Activated charcoal draws out dirt, oil, bacteria and micro-particles, while green tea helps to protect skin from cell damage and reduces inflammation. Argan, Sesame, Almond and Coconut oils soften and nourish the skin.
2
Hunter Lab
Daily Face Fuel
An intensely hydrating daily moisturiser perfect for those who prefer a lightweight cream that doesn't have an overly rich and heavy texture.
This nutrient rich, lightweight cream harnesses the power of Wakame Extract to intensely hydrate; Macadamia Seed Oil contains one of the highest concentrates of Palmitoleic Fatty Acids - vital for helping to delay skin and cell ageing.
3
Hunter Lab
SPF50+ Facial Sunscreen
A lightweight, non-greasy facial sunscreen, crafted with naturally derived zinc oxide for UVA/UVB broad spectrum protection, and enriched with Aloe Vera and Vitamin E to soothe and nourish.
Perfect for travel with its smooth and easy roll-on application, and water resistant for two hours.
Shunning synthetic formulas, green chemistry harnesses the unique powers of natural ingredients including Wakame seaweed, Snap-8 peptides, Antarcticine, Kakadu Plum Seed and Activated Charcoal for optimum skin health.
For someone who has never washed their face with anything other than water in their adult life, these natural products are a gentle yet efficacious introduction - because I think we are a few years off exploring the world of retinols.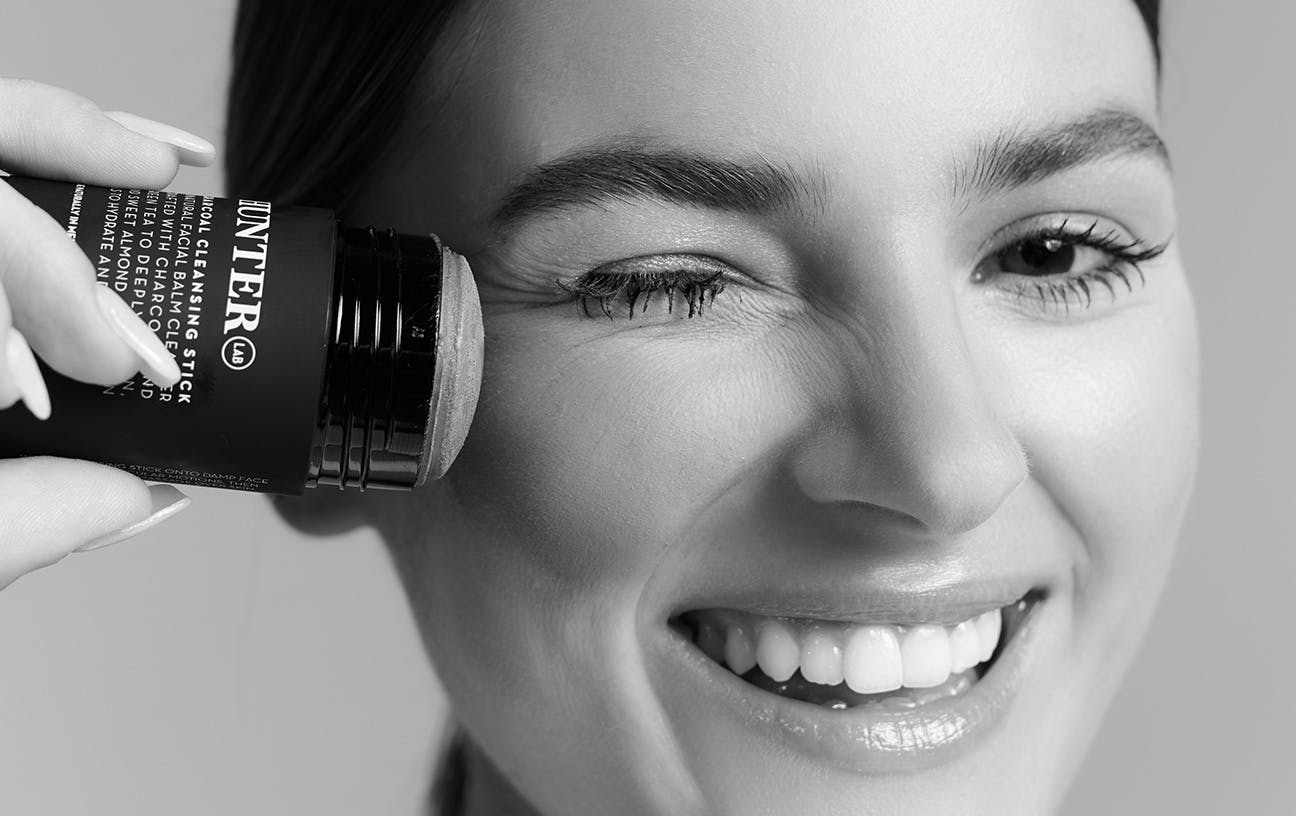 So far, so good. The products are so easy and quick to use, it hasn't been a hard sell. Next step: a serum. Gently, gently though. Best not to overwhelm.
I've been picking up the Charcoal Cleansing Stick in the shower some mornings myself and love the awakening peppermint aroma, while any overnight excess oil is completely drawn out and dissolved, leaving my skin soft, fresh and clean ahead of applying my serums.
A shared cleanser and moisturiser has another welcome benefit: less baggage when we travel. Relegating skincare products to his toiletry case, leaving more room in my suitcase? Thank you, yes please.
In this article